Creative Pinellas Offers CLE Featuring the Path to Unity Program December 8
Posted on December 6, 2022, by Massey Law Group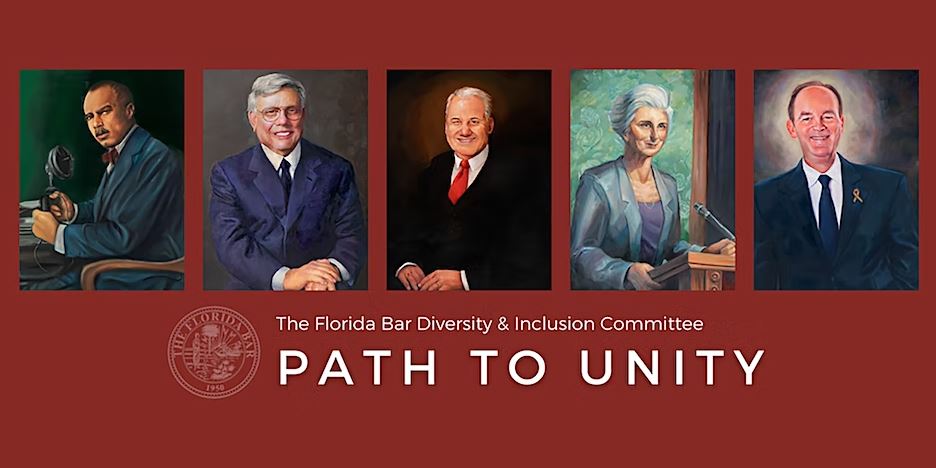 The Florida Bar's Path to Unity Program has made its way to Pinellas County! Making Pinellas County its home since November 1 and through December 15, this immersive program features five trailblazing Florida lawyers who have made significant contributions within the legal profession. Over the past year, The Path to Unity Program has traveled around the state with portraits of the legendary lawyers painted by commissioned student artists in Florida courthouses. 
On December 8 from 3-5 p.m., Creative Pinellas is hosting a Continuing Legal Education (CLE) course that aligns with the exhibit featuring Larry D. Smith, a tireless advocate for the LGBTQ community and the first openly gay member to serve on the Supreme Court Commission of Florida. Larry is the only living lawyer to be honored with a Path to Unity portrait, and his course is currently pending 2.0 hours of CLE. This free event is filling up quickly, so make sure to reserve your spot via Eventbrite.
The four additional lawyers being featured in the exhibit currently being held at The Gallery at Creative Pinellas include:
James Weldon Johnson – 

the first Black lawyer admitted to The Florida Bar through an individual examination who also wrote the hymn "Lift Every Voice and Sing" in 1900 that became referred to as the Black national anthem

Anna Brenner Meyers

 

– 

the founding member and first President of the Florida Association for Women Lawyers

Judge Mario Goderich – 

the first President of the Cuban American Bar Association and the first Hispanic/Cuban American to hold all of his judicial posts

James Kracht – 

a blind and fierce advocate for blind lawyers in Florida and Past President of the Florida Council for the Blind, who helped organize The Florida Bar's first CLE seminar about lawyers with disabilities 
MLG has been featuring, and will continue to feature, each of the lawyers' stories in blogs to emphasize the importance of their contributions. MLG's Starlett Massey has a personal commitment to justice and equality and has served on The Florida Bar Diversity and Inclusion Committee since 2018. She is a co-author of the Path to Unity school presentation and serves as Co-Chair of the Pinellas County Path to Unity Program Committee. 
Starlett explained, "This program is a celebration of diverse attorneys who are each a trailblazer in their own right. It is designed to educate lawyers and non-lawyers alike about our country's civil rights movement. Each attorney has lived and influenced the modern civil rights movement. Their stories remind us of our potential to impact positive change."