Mario Goderich and Cuban American Legal Achievements
Posted on September 15, 2022, by Massey Law Group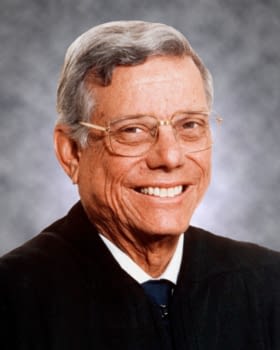 In honor of Hispanic Heritage Month, we share the story of Mario Goderich: a Cuban American trailblazer in the legal profession and an inspiration to lawyers of every background. 
Mario Goderich's Background
Mario P. Goderich was born in 1930 in Santiago de Cuba, Oriente, Cuba. Goderich's parents enrolled him in a Virginia high school to seek a better education and broader opportunities for their son. After graduation, Goderich returned to Cuba, where he attended the University of Havana School of Law and received his Doctor of Civil Laws degree in 1957. He opened his law firm, Castellanos & Goderich, and practiced law in Cuba for a few years before officially immigrating to the United States in 1961.
Early Career
After immigrating, Goderich graduated from the University of Miami School of Law in two and a half years and earned his Juris Doctor in 1966. However, because he was going through the naturalization process, Goderich was ineligible for Bar admission immediately after his law school graduation. During the interim, he worked as an associate law librarian at the University of Miami School of Law. He was eventually promoted to University of Miami Law Library director while also working as a law professor at the university. After being granted American citizenship, Goderich was admitted to The Florida Bar in 1969.
Goderich and CABA
Looking to support Hispanic Americans in the legal profession, Goderich helped found the Cuban American Bar Association (CABA) and acted as the organization's first president from 1974-1975. Today's CABA is open to judges, lawyers, and law students from all backgrounds who are interested in issues affecting the Cuban community and broader legal and human rights issues impacting all minority communities.
CABA's mission is: "to promote equality of our members; increase diversity in the judiciary and legal community; serve the public interest by increasing awareness to the study of jurisprudence; foster respect for the law; preserve high standards of integrity, honor, and professional courtesy among our peers; provide equal access to and adequate representation of all minorities before the courts; facilitate the administration of justice; build close relationships among our members; provide mentoring and scholarship to law students nationally; and support the indigent community through the funding and administration of an effective pro bono legal assistance project and other community programs."
Other Accomplishments
In 1975, Florida Governor Reubin Askew appointed Goderich as the first ever Hispanic American male to serve as a judge of Industrial Claims. 
 Adding to his list of titles, Goderich was also the first Hispanic American man to be appointed judge for the Eleventh Judicial Circuit. He was reelected without opposition in 1980 and 1986. In 1990, Florida Governor Bob Martinez elevated Judge Goderich to the Third District Court of Appeals. He was the first Cuban-American to sit on all three of those courts and the first Latin-American to sit on any court of appeal in the United States. From 1995 to 1997, he served on the Supreme Court Committee on Standard Jury Instructions in Civil Cases.
In 1981, the Florida Council on Crime and Delinquency bestowed upon Judge Goderich its Outstanding Judge recognition. In March 1986, he was presented with The Lawyer of the Americas Award by the University of Miami InterAmerican Law Review. In 1988, the Republic of Colombia bestowed on Judge Goderich the Order of Democracy. He was the first recipient of the Francisco Garcia-Amador Award presented by the Center for Hispanic and Caribbean Legal Studies at the University of Miami School of Law in 1997. Additionally, he was honored in 2004 with St. Thomas University School of Law's Jurist of the Year Award and by the creation of a Cuban American Bar Association Merit Scholarship in his name at Florida International University.
Judge Goderich retired from the Court in 2005 upon reaching mandatory retirement age.  
Path to Unity
Mario Goderich is one of five attorneys featured in The Florida Bar Diversity and Inclusion Committee's "Path to Unity" Project. According to The Florida Bar, "The 'Path to Unity' project is a traveling campaign that will tell the story of the Bar's journey from its segregated past to the rich, multi-cultural organization it is today." As the project moves from city to city, volunteer lawyers will share the stories of the five featured lawyers to middle and high school students. They will connect their stories to the history of the U.S. Constitution, our country's civil rights history through the evolution of amendments to the Constitution, the implementation of federal laws, and U.S. Supreme Court rulings. Their stories will explain how the modern civil rights movement has affected racial and gender equality as well as civic, disability, and LGBTQ+ rights.
Portraits of the lawyers have been painted by student artists and will be displayed at rotating Florida courthouses over the next two years. The "Path to Unity" project was unveiled in Jacksonville on September 20, 2021 and will be in the following cities during the remaining dates:
Lee County: Present Day – September 30, 2022

Sarasota and Manatee Counties: October 1, 2022 – November 1, 2022

Pinellas and Hillsborough Counties

: November 1, 2022 – January 31, 2023

Polk County: February 1, 2023 – March 1, 2023

Bay County: March 1, 2023 – April 15, 2023

Escambia County: April 15, 2023 – May 15, 2023

St. Lucie County: May 15, 2023 – June 20, 2023
To read more about Mario Goderich and learn about the other "faces of change" featured in The Florida Bar Diversity and Inclusion Committee's Path to Unity program, check out their website. MLG is dedicated to providing a platform for sharing these lawyers' stories to promote diversity, inclusion, and equity and the "Path to Unity" project. Enjoy previously featured stories about attorneys featured in "Path to Unity," including Anna Brenner Meyers and Larry Smith. Stay tuned for more!