St. Pete Mayor Rick Kriseman Visits MLG
Posted on June 14, 2021, by Massey Law Group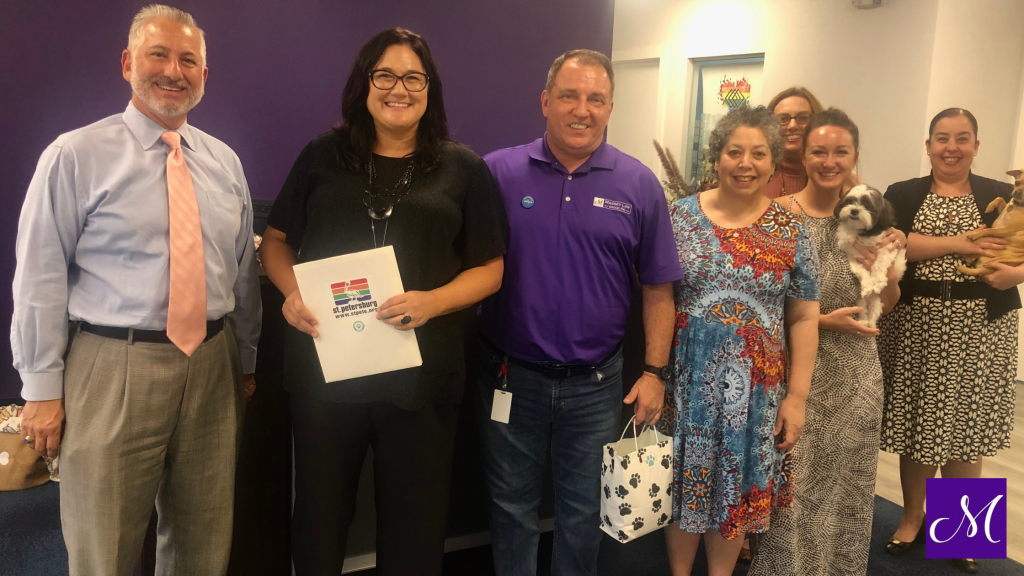 MLG received an exciting knock on the door on June 3 when St. Pete Mayor Rick Kriseman delivered the firm's official pet-friendly certificate. Mayor Kriseman was accompanied by Susan Ajoc, City of St. Pete's community service director; Sandy Winter, volunteer with Friends of Strays; and Karen Bartoszek, founder of Pets Living the Dream. The organizations work closely on the St. Pete PAWS initiative created in 2019 when Mayor Kriseman declared St. Pete a pet-friendly city.
The initiative was launched alongside the Mayor's Pet-Friendly Business Program, which MLG applied for. After receiving training for the requirements and adherences to be granted certification, MLG was officially declared a pet-friendly business in 2021. Our firm, along with four other local businesses, has now formally joined the pet-friendly club!
Since his election in 2014, Mayor Kriseman has been on a mission to make St. Pete more accessible for pets. The St. Pete PAWS program was founded to promote responsible pet ownership through expanding the number of pet-friendly businesses, parks, and programs within the city. You can locate MLG and numerous other pet-friendly spaces on the city's pet-friendly map. It is a must visit if you are looking for pet-friendly services, accommodations, parks, or "doggie dining" options. 
MLG enjoys being a pet-friendly business because our furry friends are our family. We are currently home to two recently adopted rescue cats and a home-away-from-home to numerous other "fur babies" that accompany our team to work. We understand that not everyone is an animal lover, so our firm also hosts a pet-free conference room to suit all of our clients' needs.  
Visit MLG at our St. Pete office — pets are VERY welcome!