New Pet Pal Adoptees Join Firm
Posted on May 27, 2021, by Massey Law Group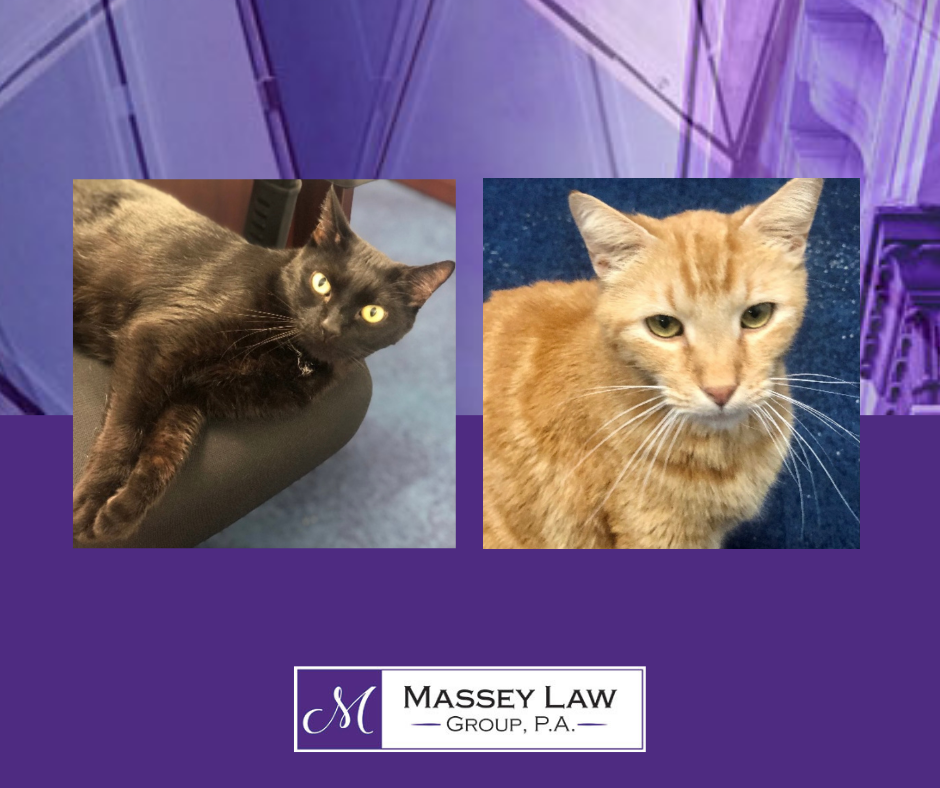 MLG's new office building became pet certified by the city of St. Pete. Immediately, we knew that we wanted to grow our team in a furry, four-legged way. MLG is excited to announce that we have rescued two cats —Lyman and Louie!
Both boys are older and have been waiting to find a forever home for quite some time. Since moving into our office on May 14th they have made themselves at home. MLG recognizes the importance of pet adoption, so when we met Lyman and Louie at Pet Pal, our nearby animal shelter, we knew it was a perfect fit. Pet Pal rescued our friends from impending euthanasia at a kill shelter and has fostered them ever since.
According to the ASPCA, approximately 1.5 million animals are euthanized at kill shelters each year. While these shelters often do everything possible to help animals get adopted, the lack of space and resources often leads to the unfortunate euthanizing of older animals, animals with health issues, or animals who have been at the shelter for an extended period of time.
Pet Pal, located at 405 22nd St. S. in St. Pete, is on a mission to rescue dogs and cats from kill shelters and provide them with an opportunity to be adopted. Pet Pal is also dedicated to educating the public about pet overpopulation, the importance of spaying and neutering, and fostering responsible pet ownership in the community. Founded in the early 1980s in Orlando, Pet Pal was relocated to Pinellas County in 2002. In 2008, the shelter built a veterinary clinic offering affordable pet services to the community. Pet Pal also opened a thrift store where 100% of the profits are used to operate the shelter.
As a non-profit organization, Pet Pal relies solely on donations. If you would like to make a charitable contribution and learn more about their mission, please visit the Pet Pal website.