MLG Adopts Two New Rescue Cats
Posted on November 5, 2022, by Massey Law Group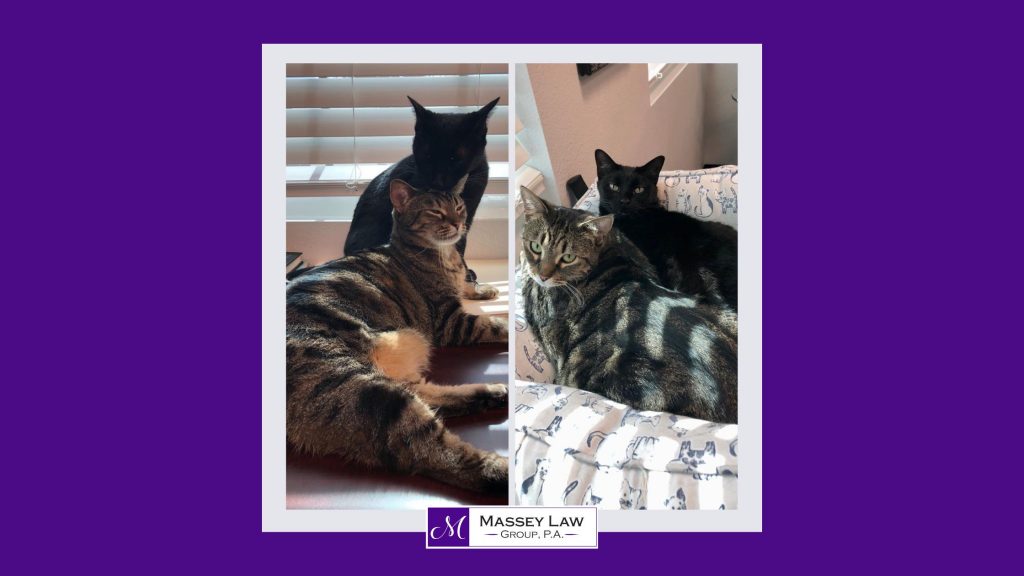 MLG's furry family is growing! Since our office building became pet certified by the city of St.Pete, we have fostered numerous cats and welcomed our team's personal pets to join us at work. Recently, the last of our original office kitties were adopted out to our employees' homes. But, we knew we couldn't stay cat-less for long, so MLG decided to adopt a pair of bonded female kitties!
Our Newest Friends
Meet Thelma and Louise, our fabulous new felines! After much deliberation and the help of our amazing MLG community, who participated in a cat-naming contest, our team decided on these names for our new friends. Thelma is our 6-year-old Hemingway cat, with six toes on her two front paws! Louise is our 5-year-old tabby who has made herself quite at home in our office space.
The Importance of Adopting
According to the ASPCA, approximately 1.5 million animals are euthanized at kill shelters each year. Lack of space, resources, and people looking to adopt often leads to older animals, animals with health issues, or animals who have been at the shelter for an extended period, unfortunately, being put down. 
For this reason, MLG is proud to support Pet Pal, a local shelter on a mission to rescue dogs and cats from kill shelters and provide them with an opportunity to be adopted. Pet Pal is also dedicated to educating the public about pet overpopulation, the importance of spaying and neutering, and fostering responsible pet ownership in the community. In 2008, the shelter built a veterinary clinic offering affordable pet services to the community. Pet Pal also opened a thrift store where 100% of the profits are used to operate the shelter. As a non-profit organization, Pet Pal relies solely on donations. If you would like to make a charitable contribution and learn more about their mission, please visit the Pet Pal website.
Since MLG is a pet-friendly office space, clients are welcome to bring their cutest companions when visiting our attorneys. While all members of our team are animal lovers, we know that furry friends aren't for everyone, which is why we also offer restricted parts of our space, including a pet-free conference room, to accommodate all of our client's needs. Looking for real estate or business legal assistance? Schedule a consultation with MLG today!