Jennifer Codding Summarizes New Hampshire Supreme Court Decisions in Bar Association Publication
Posted on June 25, 2021, by Massey Law Group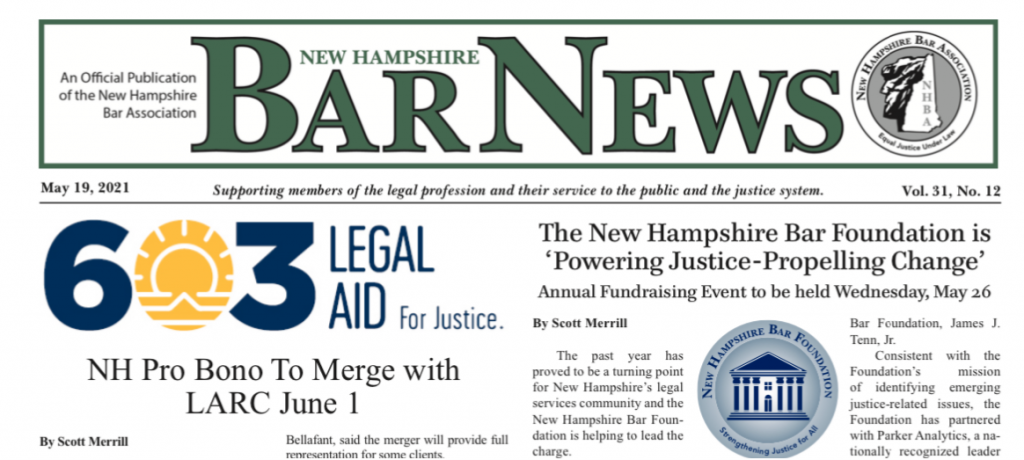 Massey Law Group (MLG) Strategic Litigator and Senior Counsel Jennifer Codding recently provided a summary of several New Hampshire Supreme Court decisions for the New Hampshire Bar News. To read her latest summaries involving New Hampshire Supreme Court decisions in criminal, divorce, and right-to-know law, see pages 40-41 in the May 19, 2021 issue.   
The New Hampshire Bar Association, which publishes the monthly New Hampshire Bar News, was founded in 1873. Members include attorneys licensed to practice in New Hampshire and state judges. The Association serves the legal community, court system, and public and has an active foundation. The New Hampshire Bar Foundation assists the disadvantaged with obtaining equal access to justice and focuses its efforts of equal justice around protecting legal rights, education, emerging needs, and resource development and management. 
With more than 20 years of law firm experience as an attorney and previously a paralegal, Jennifer helps clients with real estate transactions and real estate litigation. This includes creditor representation in bankruptcy and foreclosure, partition actions, commercial evictions, contract disputes, property title defects, adverse possession claims, slander of title claims, and quiet title actions. 
Jennifer earned her law degree from the Franklin Pierce Law Center at the University of New Hampshire, graduating from the prestigious Daniel Webster Honors Program. She is licensed to practice law in Florida, New Hampshire, United States District Court and United States Bankruptcy Court for the Northern, Southern, and Middle District of Florida.   
As a contributing writer to the New Hampshire Bar Association publications, Jennifer has previously contributed on several occasions, including July 2019 and August 2020, to the New Hampshire Bar News' At-a-Glance column.