New Real Estate Contract Changes Presented to Realtors
Posted on November 30, 2021, by Massey Law Group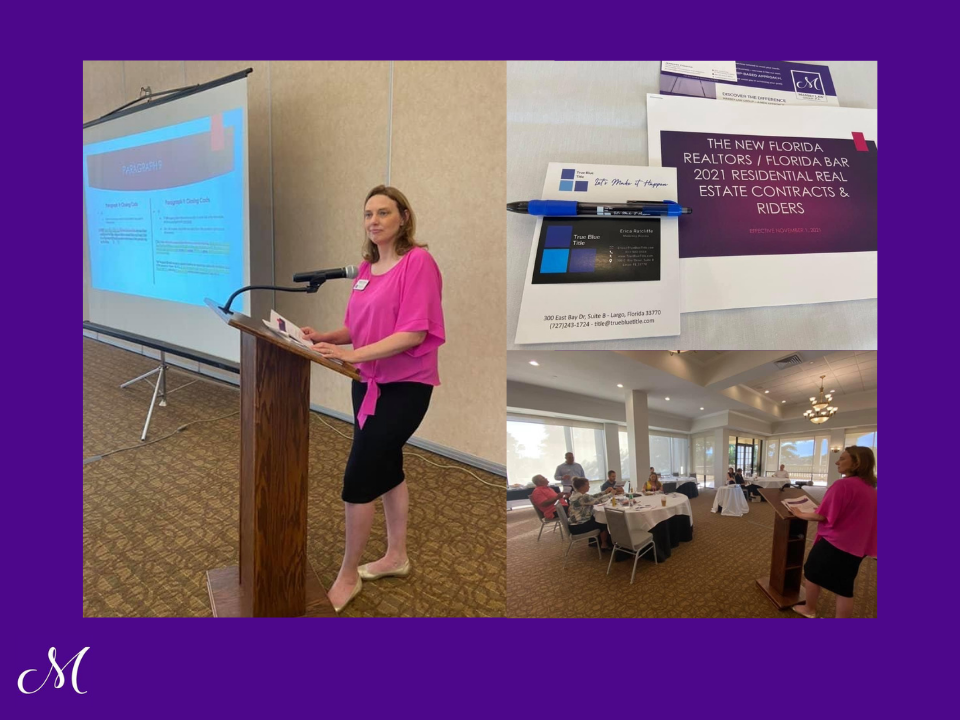 Massey Law Group attorney Jennifer Codding presented a seminar regarding new real estate contract changes to local realtors on October 28. The event, sponsored by MLG, True Blue Title, and VanDyk Mortgage, was held at the Feather Sound Country Club in Clearwater.
Codding is one of MLG's strategic litigators and senior counsel. Her practice focuses on real estate transactions and litigation, including creditor representation in bankruptcy and foreclosure, partition actions, commercial evictions, contract disputes, property title defects, adverse possession claims, slander of title claims, quiet title actions, and declaratory judgment actions pertaining to unidentifiable mobile homes.
Bringing her extensive knowledge of real estate to the seminar, Codding believes it is crucial that realtors are aware of newly passed contract changes to best serve their current and future clients.
The new contract changes went into effect on November 1, 2021 and included seven updated riders and three new riders involving mold inspection, seasonal/vacation rentals, and pace disclosure.
The new contract extends the definition of "loan approval," redefines "personal property," clarifies the definition of "closing," and specifies that texting will no longer be a viable method of communication regarding notices. Texting has been determined an unreliable way to prove that a notice is delivered. Therefore, all notices are now required to be delivered personally or by mail, fax, or email. 
One timely revision, which expanded the definition of Force Majeure, includes various instances that we have come to know as our "new normal." For example, the new definition includes "governmental actions and mandates, government shutdowns, epidemics, or pandemics."
You may read detailed descriptions of the new real estate contract changes here. 
If you are looking for help with real estate transactions or litigation, Massey Law Group has a team of experienced attorneys ready to make the process easier for you. Visit our webpage and schedule a consultation for more information.