Honoring Michele Rayner Goolsby this Women's History Month
Posted on March 27, 2023, by Massey Law Group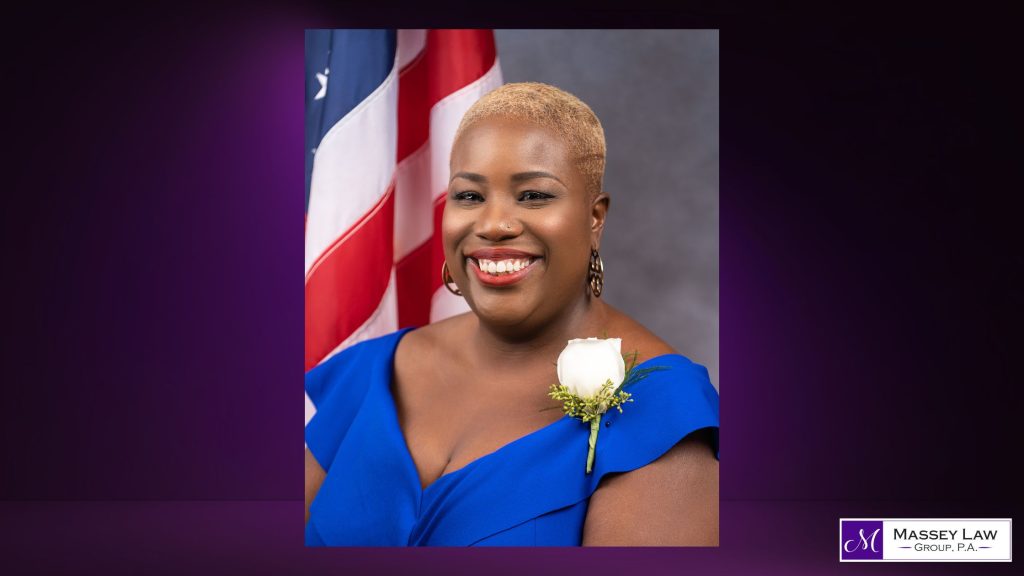 This Women's History Month, MLG celebrates Michele Rayner Goolsby. The first openly lesbian black woman elected to the Florida Legislature, Michele Rayner Goolsby, has been a champion in the fight for equality both politically and in our community. MLG is proud to announce that Michele and her staff are now members of our MLG family as we share our 3833 Central Ave office space. Keep reading to learn more about Michele and MLG's commitment to female empowerment!
Background
Born and raised in Clearwater, Florida, Michele Rayner Goolsby received her Bachelor of Science in international affairs & political science from Florida State University in 2003. In 2006, she received her M.S. in international affairs and enrolled in the Florida Coastal School of Law. Upon graduation, Michele was admitted to the Florida Bar in 2011 and returned to Clearwater to work as an assistant public defender in Florida's Sixth Judicial Circuit. 
Shortly after joining the Public Defender's Office, Michele became the attorney for Markeis McGlockton's family. Markeis was shot and killed in a Clearwater parking lot, reigniting the debate over Florida's controversial "Stand Your Ground" law. The experience made it clear to Michele that running for the state legislature could help her do more to fight unjust laws and prevent future tragedies from occurring.
Political Career
Michele Rayner Goolsby ran for the Florida House of Representatives in 2020. After raising over $116,900 in campaign funds, Michele won 31.3% of the vote against three other candidates in the Democratic primary and was elected uncontested in the general election.
As the first black lesbian elected to Florida's legislature, Michele is endorsed by Equality Florida, the Florida Education Association, the Democratic Progressive Caucus of Florida, U.S. Representative Charlie Crist, and Florida state representative Jennifer Webb. 
Since her election, Michele has nobly represented District 70 in Pinellas, Hillsborough, Manatee, and Sarasota Counties, and MLG is proud to support her in the running for reelection to her second term as a Florida State House Representative, District 62. 
Florida Rising
In addition to being a House Representative, Michele is also the Director of Development at Florida Rising, a people-powered organization whose members advocate for economic and racial justice across Florida. In this role, Michele develops fundraising goals to support the organization's mission, which is to expand democracy and fight against climate, housing, gender, and reproductive injustice, and also advocate for prison reform.
"To whom much is given, much is required. I stand on the shoulders of the women, especially my ancestors, who came before me. They imagined and worked to create a better, a more equitable, a more just world and I am honored to continue that work," said Michele.
MLG & Female Empowerment
At MLG's offices, every month is about celebrating women. With the majority of our attorneys, paralegals, and administrative staff being female, we are proud to be supporters of women's empowerment in the workplace. 
Our shared office space is also home to Kristina Feher of Feher Law, Liz Moneymaker of Ferrari, Butler, & Moneymaker, PLLC. and Rachel Soffin of  Milberg. With Michele Rayner Goolsby's staff joining our space, our office has no shortage of girl power!