Florida CraftArt Reminds Us — Healing Has Been a Long Time Coming
Posted on July 23, 2020, by Massey Law Group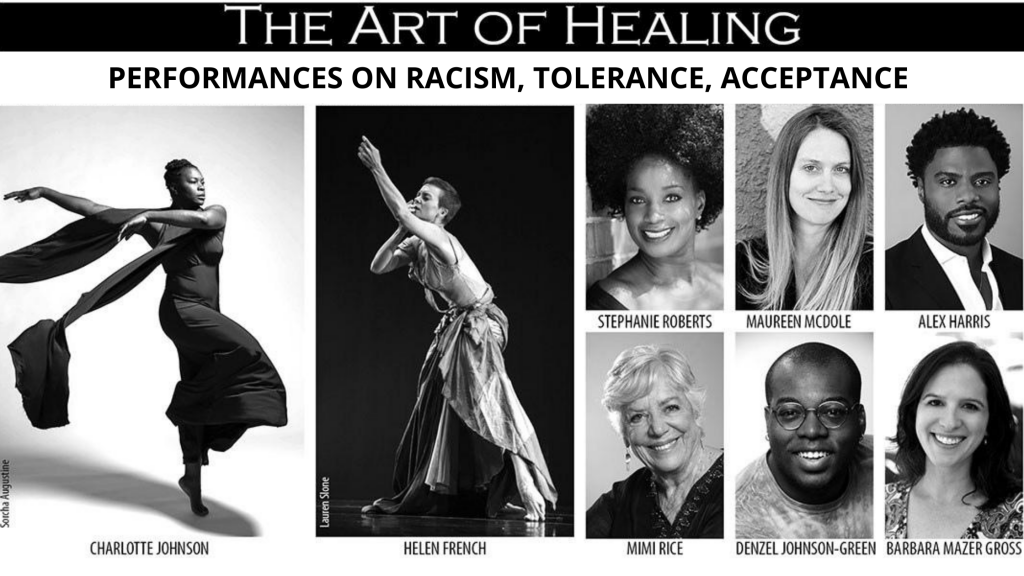 At Florida CraftArt "The Art of Healing" event, guests listened to the performance of "A Change is Gonna Come." The walls could barely contain the sound. The lyrics were powerful. Now, when you watch the February 11 performance, it feels like a haunting prophecy being foretold.
Oh, when I go to my brother
I'd say brother, help me, please
But he winds up knockin' me
Back down on my knees
Three months after "The Art of Healing," George Floyd was murdered by a police officer. Globally, protests took place, and Floyd's final breath became a cry for justice worldwide.
"A Change is Gonna Come" was written by Sam Cooke and released in 1964. Cooke's song was selected as one of 25 recordings to be added to the 2006 National Recording Registry for preservation in the Library of Congress for its cultural, historic and aesthetic importance. Inspired by events in his and the lives of other Black Americans, Cooke wanted to address racial injustice in America and the Civil Rights Movement.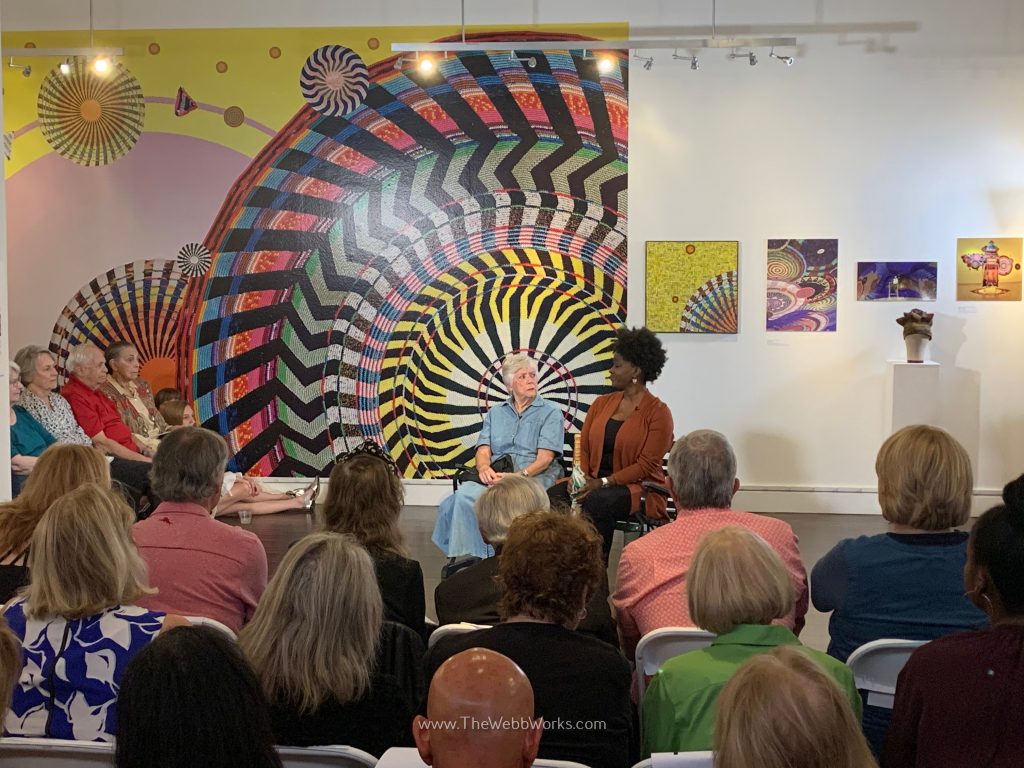 The Green Bench
"A Change is Gonna Come" was one of six performances presented during the "Art of Healing" event to a gallery with standing room only. Performances included a play, poetry, music, and ballet spotlighting diversity, inclusion, and equal rights. Black and white performers, from dancers trained at The Julliard School to a singer who has graced the stage with Aretha Franklin and John Legend shared the spotlight.
Throughout the performances, a single green bench occupied the stage. Green benches were installed in St. Petersburg starting in 1916, and they were a symbol of hospitality — and segregation as Black people weren't allowed to sit on them. The play, "Waiting on the Green Bench," performed by Mimi Rice and Stephanie Roberts, offered a glimpse into the lives of two women and their vastly different experiences and perspectives of race and racism. 
Authors of the play were Katie Deits, the executive director of Florida CraftArt, and Kubby. Deits tapped her personal experience as a white southerner, who grew up in Florida prior to school integration in a racist society. Collaborating with her on the play was Kubby, a young, up-and-coming Black filmmaker and writer.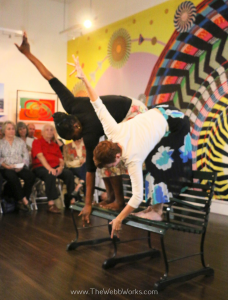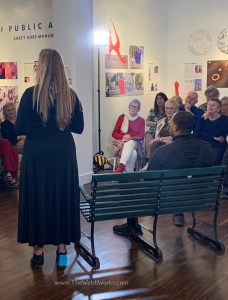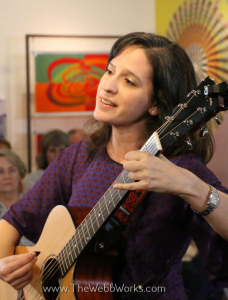 Change, Hope, Love
Change, tolerance, understanding, and hope were reflected in the next performances of dance, poetry, and music. Choreographed and performed by Julliard-trained Helen French and Charlotte Johnson, the dance "Between Us" featured the green bench as its centerpiece. It demonstrated racial tension and the understanding that can lead to change. 
Poetry written and read by Maureen McDole and Denzel Johnson-Green spoke about prejudices and the hope and example that their relationship as neighbors offers to society. Barbara Mazer Gross with The Florida Orchestra sang and performed on guitar the Jewish song, "Olam Chesed Yibaneh (I Will Fill This World with Love)." Rabbi Menachem Creditor wrote the song for his daughter, who was born soon after the World Trade Center attacks on September 11, 2001. It has become known as a song of resistance — I won't stand for hatred, instead, I stand for love.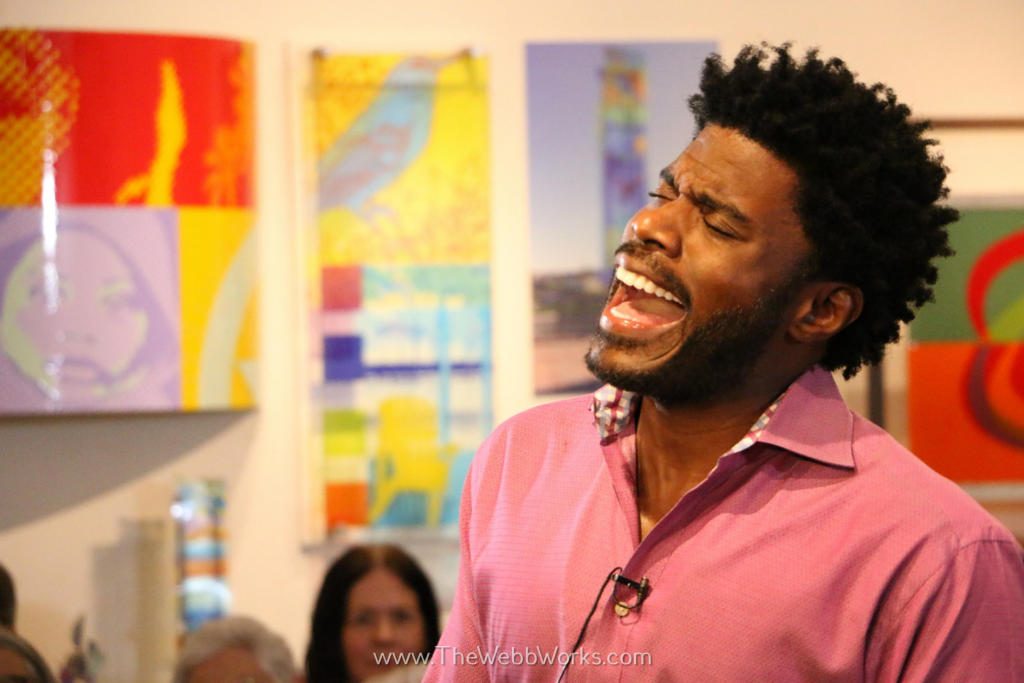 Grace
Dr. Alex Harris, singer, songwriter, and philanthropist, has performed at two U.S. presidential inaugural galas and shared the stage with world-renowned entertainers and actors. He sang "A Change is Gonna Come" and was accompanied by the cast for the final performance "Amazing Grace." Harris told the story of John Newton, a slave trader who repented and wrote "Amazing Grace" in 1772, celebrating the capacity to be delivered from despair through grace and mercy. 
Guests, many with tear-filled eyes, thanked the cast with a standing ovation. As Sam Cooke's lyrics in "A Change Is Gonna Come" move from racism and bloodshed to hope, they say:
There been times that I thought I wouldn't last for long
Now I think I'm able to carry on
It's been a long, a long time coming
But I know a change's gonna come, oh, yes, it will
Bring "The Art of Healing" to You
"The Art of Healing" video is being offered to the public by Florida CraftArt in the hope that it will increase awareness, and viewers will engage in conversation about racism, its impact on our world, and paths for understanding and resolution. Florida CraftArt seeks to raise awareness, so we may collectively heal from America's painful history of oppression and work to overcome racism together.
If your organization is interested in hosting an online viewing of "The Art of Healing" and would like to request cast participation for a Q&A session, please contact Katie Deits at Florida CraftArt at: katie@floridacraftart.org.
Florida CraftArt extends its gratitude to Jim Webb and team of The Webb Works, LLC for filming and producing the video of "The Art of Healing" event. 
Art of Healing Resources: