Florida Corporate Law Firm's Starlett Massey is Reappointed to The Florida Bar Diversity and Inclusion Committee
Posted on May 15, 2019, by Massey Law Group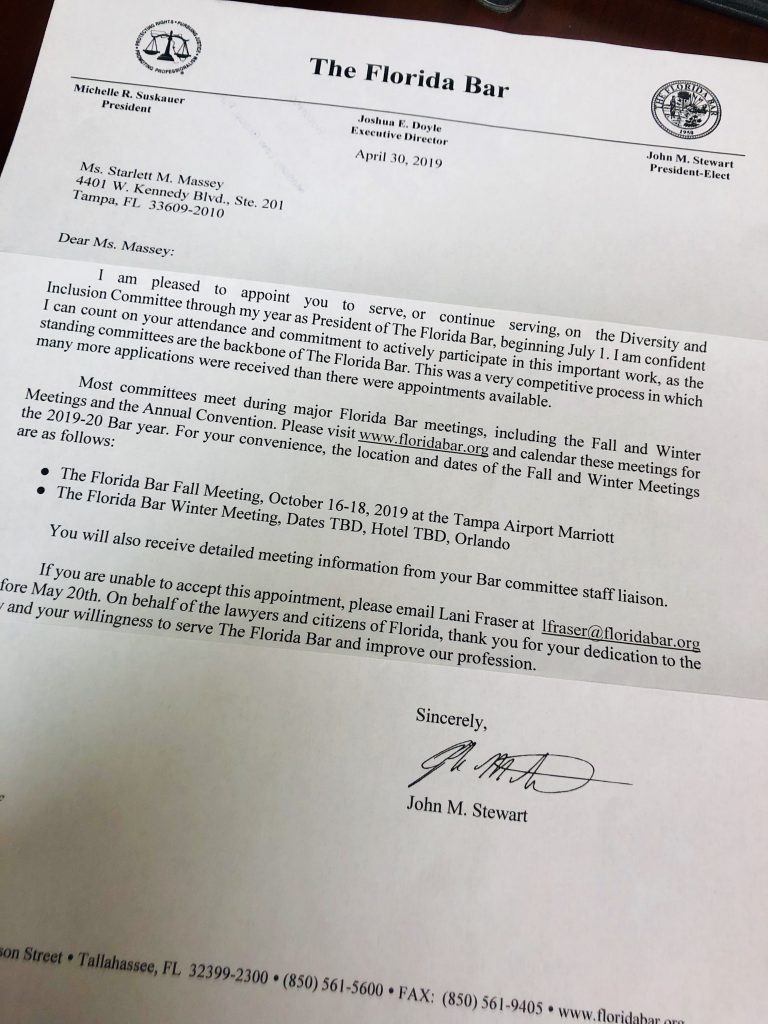 On April 30, 2019, The Florida Bar President-Elect, John Stewart, reappointed our firm's founding shareholder, Starlett Massey, to the Florida Bar Diversity and Inclusion Committee.
"I am excited about the privilege to continue to serve on The Florida Bar Diversity and Inclusion Committee," said Starlett. "The work of the committee reflects our firm's and my commitment to justice and equality. The work of the committee makes us stronger as a profession and community, helping us to better reflect, represent and serve those within the legal profession and our clients."
Massey Law Group (MLG) actively engages in professional and community groups, from The Florida Bar committee to local nonprofits, such as Faces of Courage. Our goal is to promote and encourage collaborative, positive change. We have experienced that engagement helps to create opportunities and space for sharing ideas, challenges, and successes. Internally, we work to ensure that the professionals in our firm reflect the diversity of our community and the clients we serve.
The work of the committee supports a variety of initiatives and programs in the legal community to promote diversity and inclusion in The Florida Bar. The committee also supports a Diversity Leadership Grant program, which helps to provide diversity training and dialogue among lawyers in Florida through the financial support of seminars, conferences, and summits hosted by local and specialty bar associations.
The committee was created in 2010 when The Florida Bar evaluated and enhanced its diversity initiatives. At that time, The Florida Bar Board of Governors also adopted this statement for the committee's mission:
To increase diversity and inclusion in The Florida Bar so that the Bar will reflect the demographics of the state, to develop opportunities for community involvement, and to make leadership roles within the profession and The Florida Bar accessible to all attorneys, including those who are racially, ethnically and culturally diverse, women, members of the LGBTQ community and persons with disabilities.
To get involved with the legal profession's path to unity and The Florida Bar's Diversity and Inclusion Committee, learn more: