We Are Champions — For Children and Their Holiday Store!
Posted on December 5, 2019, by Massey Law Group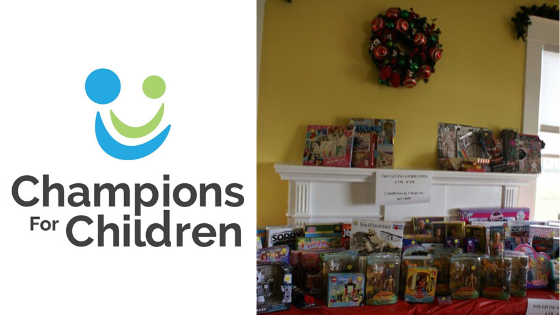 Champions for Children mission is to build stronger families in the Tampa Bay region. They achieve this through child abuse prevention and family education programs. Serving the Tampa Bay region since 1977, they provide support and education to approximately 40,000 people annually.
One of their programs is the Champions for Children Holiday Store. For more than 17 years, they have opened their doors during the holidays, so their clients may "shop" for gifts for their children at no cost. A wide selection of gifts is made available to parents and caregivers through donations made by the community and event partners. MLG served as a donation collection point for this year's toy drive, and we appreciate the generous donors who made it a success. 
How does a toy drive help?
Children, from birth to age 12, benefit, and so do their families. Year-round, Champions for Children addresses the deeper issues necessary to help build stronger families — from prenatal support to parenting skills and from health resources to networking for fathers. The Holiday Store is a way that our community can make a difference in people's lives during this special time of year.
"Several years ago, I lost my job two months before the holidays, and my attention was on job hunting and keeping groceries on the table," said Laura Sykes. "As a Champions for Children client at the time, I learned about the Holiday Store, and my anxiety lifted. I'll always remember the people who were there for my daughters and me." 
The event, which provides toys to over 1,000 children, supports and rewards families who participate in Champions for Children programs that help to ensure their families are strong and children are thriving. The event also empowers families as they are able to choose the toys and books best suited to their children's needs and wishes.
"For it is in giving that we receive." – St. Francis of Assisi
In addition to the community donating toys and books, volunteers also staff the Holiday Store and gift-wrapping room, making for a fun and meaningful event for both the families and volunteers. 
The drive and event fill everyone with holiday cheer — and remind us of what the holiday season is really about. Thank you for making the MLG toy drive and Champions for Children Holiday Store a success! 
To learn more about Champions for Children, please visit: www.cfctb.org.