Starlett Massey Endorses Liz Zuroweste for Pinellas County Judge
Posted on September 2, 2021, by Massey Law Group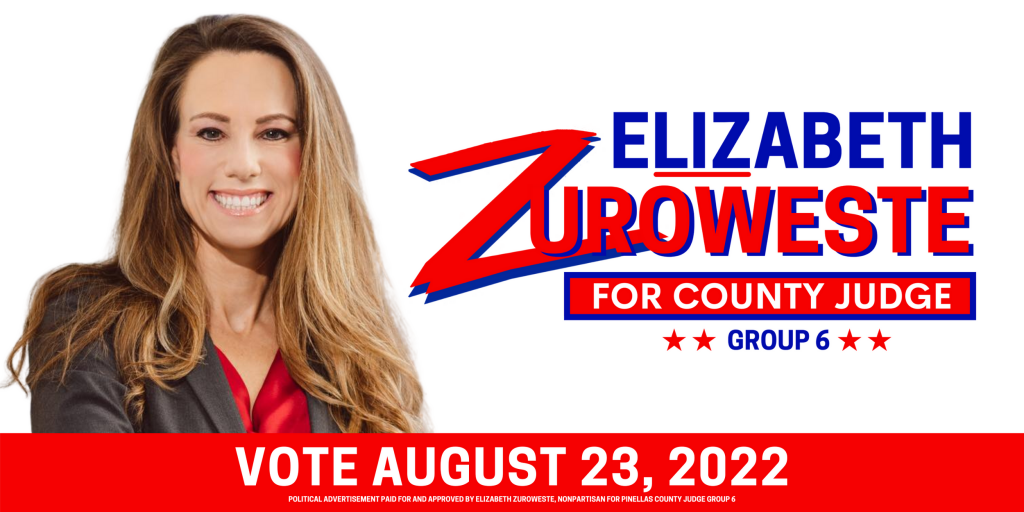 Starlett Massey endorses Elizabeth "Liz" Zuroweste for County Judge, Group 6. A Florida native and Stetson University School of Law alumna, Liz stands on her intellect, integrity, impartiality, and the results of having dedicated her career to making our community a better and safer place.
For the past 15 years, Liz has served as the assistant state attorney and the lead trial attorney for over 80 jury and bench trials while also successfully negotiating thousands of additional criminal cases. She is a champion in the fight against youth gang violence, and in 2017, she was recognized as a community hero by the Pinellas County Domestic Violence Task Force.
Liz is also an active member of the Pinellas County community. She volunteered as a Big Brothers Big Sisters mentor and co-chaired the organization's leadership council. She is a member of the Advocacy and Awareness Committee for CASA and a mentor in the Lunch Pals program in Pinellas County Schools.
Passionate about helping those with criminal backgrounds improve decision-making and turn their lives around, Liz will continue to fight for fairness within the justice system. She often speaks with young people regarding the importance of following the law, and she takes pride in volunteering with community programs to mentor children. Liz is a fierce advocate for victims and is valiant in her efforts to get abusers and other offending criminals off the streets.
"Liz is brilliant and bold and a strong example of a powerful woman in our community. She will make an excellent judge," said Starlett Massey, Founding Shareholder of MLG. Liz is also endorsed by dozens of Pinellas County attorneys, law enforcement agents, and citizens. For more information on Liz and to learn more about her campaign, please visit her website.
Vote Liz Zurowest for Pinellas County Judge, Group 6 on August 23, 2022!