More Businesses Celebrate Earth Day Every Day
Posted on April 18, 2022, by Massey Law Group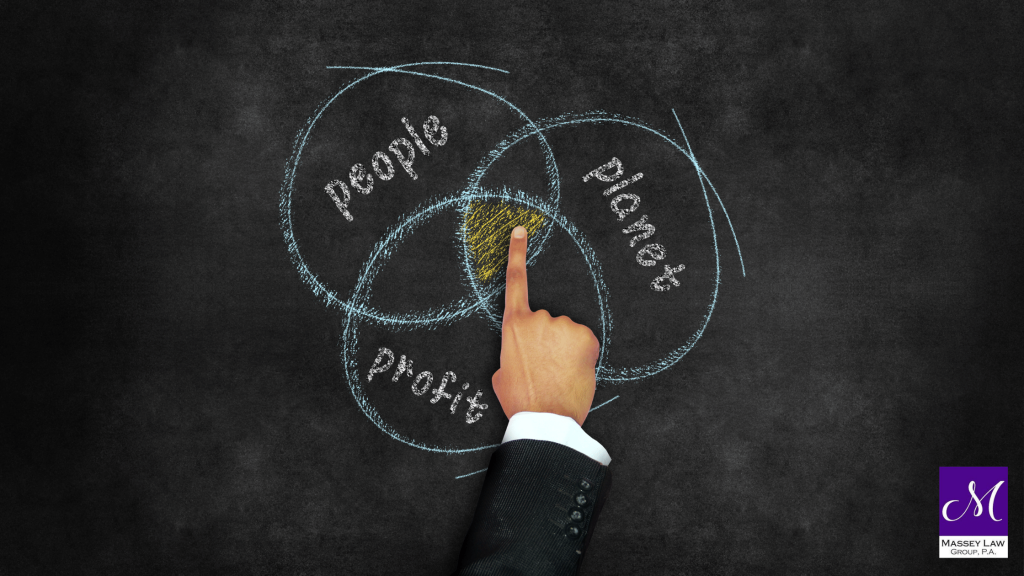 Every April 22, the world celebrates Earth Day. Starting in the U.S. in 1970 and globally in 1990, Earth Day was born as an initiative for citizens and businesses to become environmentally conscious. 
An increasing number of companies are committing to being environmentally conscious by using sustainable resources in their products and packaging. They recognize that we have a give and take relationship with our environment, and they cannot only take resources. They need to use them wisely and give back to the environment by planting trees, reducing pollution and waste, sourcing materials safely, and using alternative energies.
Triple Bottom Line Model
People, profit, and planet are the three pillars that make up the triple bottom line (TBL) approach of doing business, and more companies are changing their strategies to follow this model. Profit is about making money and more. It is also how companies can succeed and give back to people, communities, and the planet. Companies are becoming more socially responsible by focusing on initiatives like fair wages and safety in the workplace. Businesses are also accounting for how their products and manufacturing affect the planet and want to leave a positive footprint on our environment through sustainability.
IKEA and Patagonia use the TBL model. Patagonia is committed to making apparel that does not harm the environment by using sustainable resources. It is a proponent of work-life balance for its employees and fair wages for the workers its suppliers employ. IKEA is conscious of how its products affect the environment, and it started a buy-back program for old products, pledging to use 100% recyclable or renewable materials by 2030. It is also vigilant about meeting international labor standards. 
B-Corporations
Companies need to set goals that help their people, profits, and our planet for the TBL model to work. They cannot just report numbers on paper. TBL needs to be part of their mission, values, and actions. Further, companies committed to social and environmental change are eligible to apply to become B Corp certified. 
B Corps have proven they are transparent in their commitments to social and environmental change and make legal changes to their corporate governance structures to be accountable to their stakeholders. With more than 4,000 companies worldwide certified as B Corps, the demand for certification is increasing.
How Does This Apply to My Business? Earth Day Every Day.
According to a Harvard Business School article, which compiled statistics on corporate social responsibility, 70% of Americans believe it's either "somewhat" or "very important" for companies to make the world a better place. The same article states that 77% of people are motivated to purchase products from companies committed to doing so. Consumers take note of what companies do, and so do employees. Of employees surveyed, 95% believe businesses should benefit all stakeholders, from employees and customers to suppliers and communities.
The conclusion is that consumers care, and they want companies to care about more than just profits. They want to know the businesses they patronize treat employees, suppliers, and communities with respect and dignity. Further, they want proof that the products they purchase are helping the environment by creating a positive legacy.
MLG is committed to the business community, providing services from business law to corporate formation and governance. We support businesses that are focused on the triple bottom line by helping them put successful legal and business strategies in place to positively serve people, profit, and our planet.