MLG Welcomes Lauren D. Kerr as Attorney of Counsel
Posted on June 12, 2023, by Massey Law Group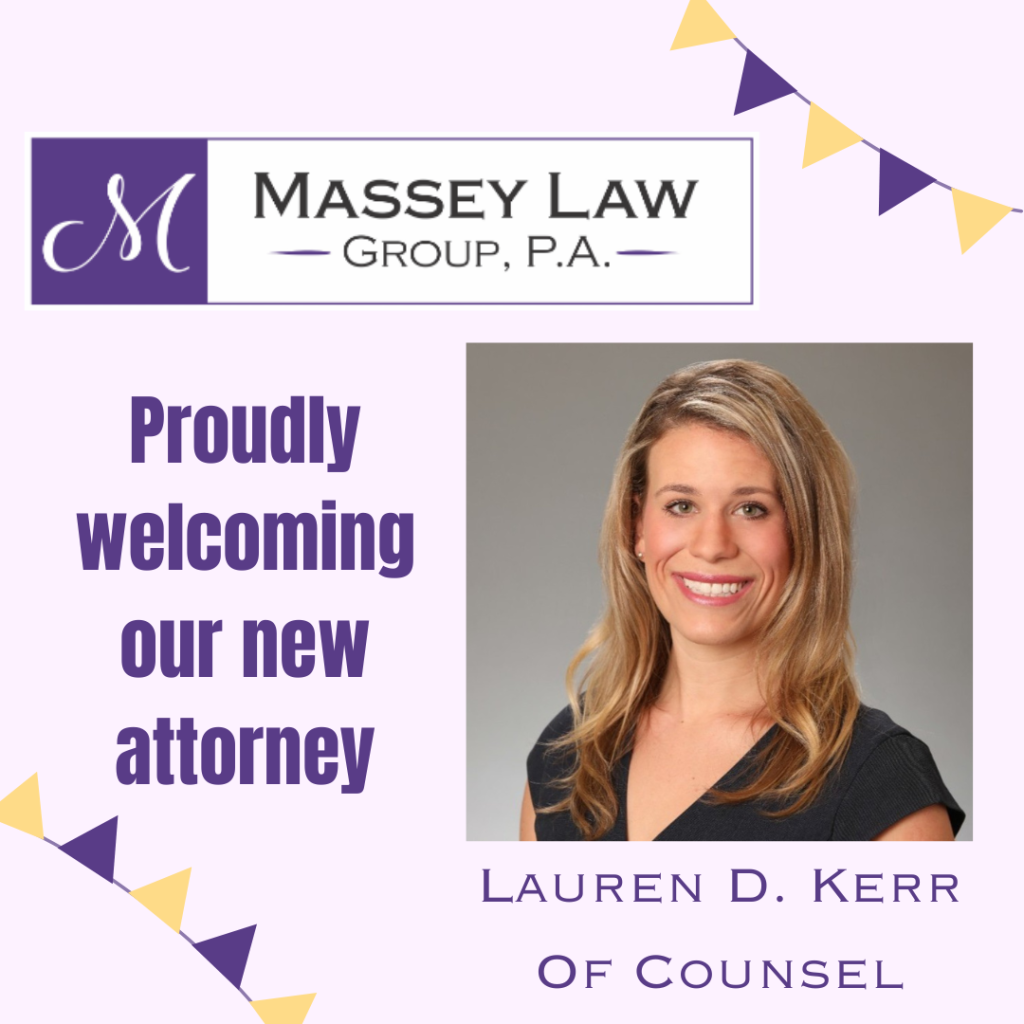 Massey Law Group, P.A. (MLG) welcomes attorney Lauren D. Kerr to the team. Lauren is an experienced and engaging litigator with a wide-ranging background in civil litigation and construction law. Her dedication to her clients and resolving cases efficiently sets her apart from her peers. Lauren truly enjoys working diligently toward and achieving her clients' goals. 
Lauren is skilled in guiding clients through the challenges and complexities of litigation. Often, by cultivating positive peer relationships and staying committed to the details, cases can be resolved before they even see the courtroom. With two jury trials and extensive arbitration experience, Lauren brings valuable insight into the litigation process.  
Construction Law Experience Coupled With Community Service 
Not only does Lauren practice law in an attentive and results-driven manner, but she is also passionate about serving the local community. Lauren has been a member of the Pinellas County Chapter of the Florida Association for Women Lawyers member since 2017 and served on the board of directors for three years. As a "Big Sister" with Big Brothers Big Sisters from 2017 to 2020, Lauren truly enjoyed empowering Tampa Bay youth to dream big. Lauren is also involved with the Junior League of Tampa, an organization focused on improving the lives of women, children, and families in the Tampa Bay area.  
"I joined MLG because I admire MLG's hands-on, proactive approach. It is so important to me to keep an open dialogue with my clients and become a trusted resource," said Lauren. "I want to work together to not only solve pending problems swiftly but also prevent future issues. Having known Starlett Massey for years, I am honored to join MLG's impressive team of professionals and look forward to serving clients together."  
Lauren is a graduate of the University of Florida Levin College of Law. She represents national and local general contractors, subcontractors, design professionals, and others in residential and commercial construction matters at all stages of litigation, from pre-suit warranty or customer care claims to mediation and arbitration hearings or jury trials. 
Additional Information
Lauren Kerr Biography and LinkedIn Profile