How to Help Those Affected by Hurricane Ian
Posted on October 6, 2022, by Massey Law Group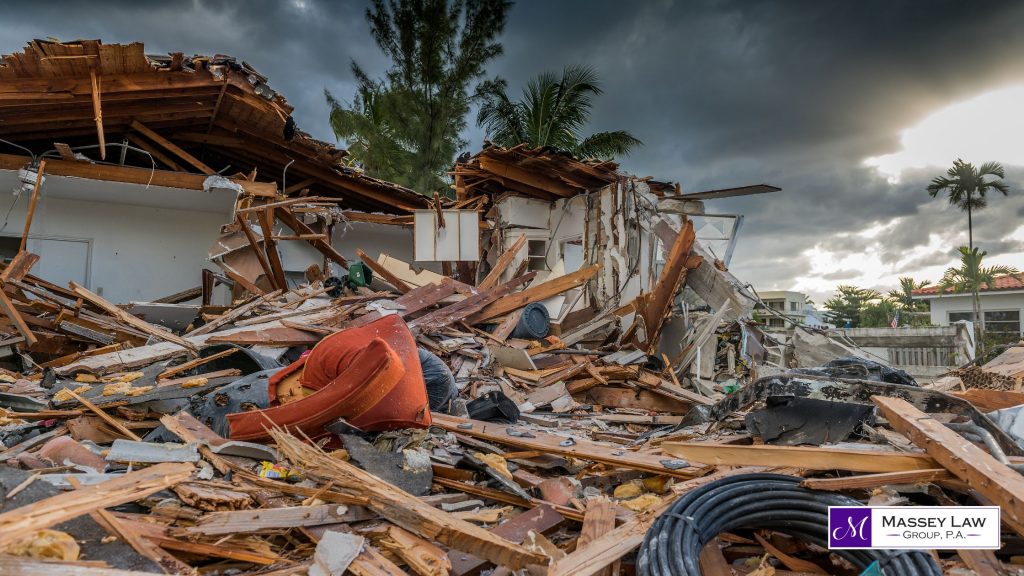 In the aftermath of Hurricane Ian, impacted communities are facing devastating destruction. In times of great tragedy, we often see the best of humanity. In the week since Ian made landfall, volunteers from all over the country are rallying behind impacted areas. As a community, we are responsible for supporting our neighbors as they begin to recover and rebuild. In this blog, you will find information on where to donate, how to get involved, and resources for survivors of Hurricane Ian. 
MLG Hurricane Ian Relief Drive
This weekend, our MLG team will be traveling to underserved communities affected by Hurricane Ian to bring relief supplies. If you are able to donate any of the items below to our drive, please deliver them to our office at 3833 Central Avenue in St. Pete by Friday, October 7. Monetary donations are also gratefully accepted and can be sent via Venmo to @starlett-massey.
We are collecting:
Gas

Nonperishable (cans with pop tops only)

Water

Air mattresses (auto-inflate/no power needed)

Medical supplies / first aid kits

Bleach

Vinegar

Baking soda

Pet food / supplies

Shovels / brooms / saws

Batteries

Feminine care products

Chainsaws, with gas and oil, replacement blades

Work gloves

Trash bags

Wet wipes and other hygiene products

Bug spray

Fix a flats

Tarps

Diapers

Baby wipes

Toiletries
Ft. Myers Donation Drop-Off/ Resource Locations
Below are donation drop-off and resource locations for you to directly provide aid to impacted communities in Ft. Myers and Ft. Myers Beach. 
Mount Pleasant Missionary Baptist Church
7240 Concourse Drive, Ft. Myers, FL 33908
Contact: Pastor Terry Mobley
** For those in need, this location is providing hot meals for residents.
Harlem Heights Food Pantry 
10511 Gladiolus Drive, Ft. Myers, FL 33908
Open every day 11-4
Contact: Miriam Ortiz
** This location does not accept clothes. All other supplies below are needed.
Supplies requested:
Bug spray

Sunscreen

Air mattresses

Manual can opener

Baby products

Diapers

Formula

Baby wipes

Powdered milk and shelf stable milk

Drinks and drink mixes other than water

Water (gallon jugs)

First aid supplies

Cleaning supplies

Bleach

Clorox wipes

Shop towels

Buckets

Mops

Brooms

Rakes

Trash bags

Gloves (yard work and rubber)

Flashlights and batteries

Clothing and shoes

NEW socks and underwear

Shoes

Rain boots

Summer clothing in good condition

Hygiene products

Toilet paper

Feminine hygiene products (small boxes or individually wrapped)

Toothpaste, toothbrushes

Hand soap, body soap, shampoo, conditioner

Linens

Towels

Washcloths

Bedding, pillows

Pet supplies

Bikes (for adults who lost their cars)

Lighters
Ft. Myers Beach
Trico Shrimp Company: Drop-off at either location
1300 Main Street, Ft. Myers Beach, FL 33931 or
15921 Husky Lane, Ft. Myers, FL 33912
Supplies Requested: hygiene products, underwear, shoes, hats, sunscreen
Ft. Myers Beach Community Foundation
The Fort Myers Beach Community Foundation is a great place to donate, as the cash collected goes directly to impacted residents. Learn more here.
Cajun Navy Foundation
The Cajun Navy arose out of the devastation of Hurricane Katrina in 2005 and has established itself as a committed, efficient volunteer organization. If you would like to donate funds, please do so at its official website.
American Red Cross
Now more than ever, there is an urgent need for blood donors. If you are able to donate blood, please make an appointment via The American Red Cross website. The American Red Cross is also taking monetary donations to directly help those affected by Hurricane Ian. You can send a financial gift to impacted communities here. 
Legal Assistance for Survivors
Massey Law Group is proud to refer our colleague, Vanessa Ross, to those directly impacted by Hurricane Ian in need of legal assistance. Ross Legal Group is based out of Sarasota and specializes in insurance claims. 
Additional Resources
As the rebuilding process begins, MLG will use its platform to share vetted resources for donors and those impacted by this horrific natural disaster. As Floridians, we will continue to support our neighbors in need as they heal from the unimaginable destruction brought on by Hurricane Ian.