Fundraiser for Barbara Leach for Judge: Putting the Fun (and Friends) in Fundraising
Posted on November 25, 2019, by Massey Law Group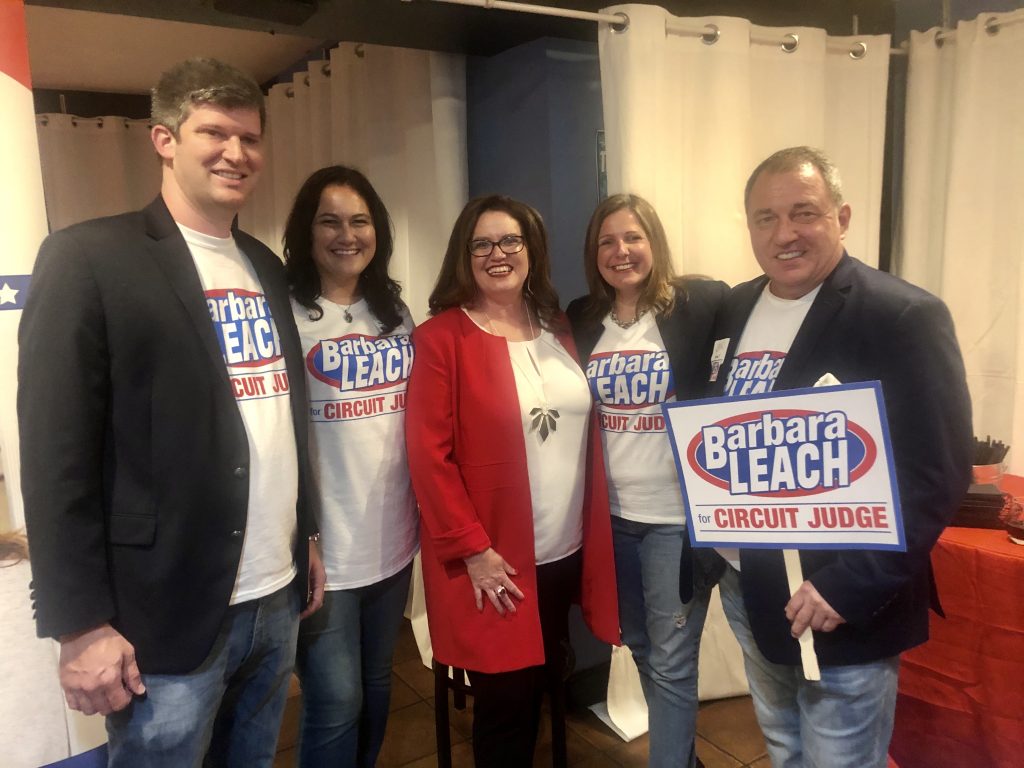 Barbara Leach is a nonpartisan candidate for Circuit Judge in the Ninth Judicial Circuit Court, serving Orange and Osceola Counties. With the election on August 18, 2020, Barbara is focusing on connecting and communicating with her constituents. In October, Massey Law Group (MLG) and Greenlee Law held a fundraiser to support Barbara.
"It was a fundraiser and a friend-raiser," said Starlett Massey, founding shareholder of MLG. "There are a variety of deserving organizations and campaigns people can support. Our event created a space for friends to gather and learn more about Barbara."
"Guests relaxed and enjoyed food and music. Their enthusiasm and support were ignited by talking with Barbara and learning about her goals for serving the community as a circuit judge," said Paige Greenlee, founding shareholder of Greenlee Law.
Barbara's goals and values that set her apart as a candidate include being:
A Judge for the People
Having put herself through undergraduate and law school through scholarships and by waiting tables, Barbara comes from humble roots. She treats people with dignity and respect and has represented clients across the economic spectrum. She honors that the court system exists for the benefit of everyone, and she is an advocate for equality and equal access to the justice system.
A Judge for the Community
When Barbara's law school professor was diagnosed with ALS, she co-founded a fundraising organization to assist him. When Professor Gey passed away, she also helped to found the Steven G. Gey Foundation and worked with the Walk to Defeat ALS, raising more than $500,000 for ALS research. Her compassion and commitment to service are reflected in her contributions to a variety of charitable projects in her community.
A Judge for Businesses
Barbara's background is in commercial litigation and serving as outside counsel to small businesses. She understands the legal challenges of business owners. As a business owner herself, she values the enforcement of contracts, predictable legal outcomes, creative problem solving, and alternative dispute resolutions that benefit businesses.   
A Judge for the Law
Barbara has a deep love for the law and graduated in 2007 in the top 13% of her class from the Florida State College of Law. She was an editor of the FSU Law Review and has practiced in diverse areas, including complex commercial litigation, homeowners association law, bankruptcy, and family law. Her career has been with a prestigious, multinational law firm and as the managing partner of Barbara Leach Law, PL. Her background and experience equip her with the tools to be thoughtful and unafraid to study case law and make difficult decisions.
A Judge for the Legal Community
Barbara enjoys serving her local and state voluntary bar associations. These have included the Central Florida Association for Women Lawyers (CFAWL), the Orange County Bar Association (OCBA), Florida Association for Women Lawyers (FAWL), the Florida Bar Association, and the American Bar Association. Her experience has developed her ability to run large organizations successfully. For CFAWL, she created an ad hoc committee that was responsible for the association's first strategic plan and the Past President's Council, resulting in CFAWL being named the statewide Chapter of the Year. In 2017, Barbara served on the Planning Board for the largest legal technology conference in the nation, ABA TECHSHOW. In 2018, she served as the chair of the Statewide Technology Conference for The Florida Bar.
To learn more about Barbara and support her campaign, please visit: www.barbaraleachforjudge.com. 
Pd.pol.adv. Paid for and provided in-kind by Massey Law Group, P.O. Box 262, St. Petersburg, FL 33731-0262 and Greenlee Law, 1304 S. De Soto Ave. #203, Tampa, FL 33606.  Approved by Barbara Leach.