Diversity and the Economy: An Integral Connection
Posted on February 14, 2022, by Starlett Massey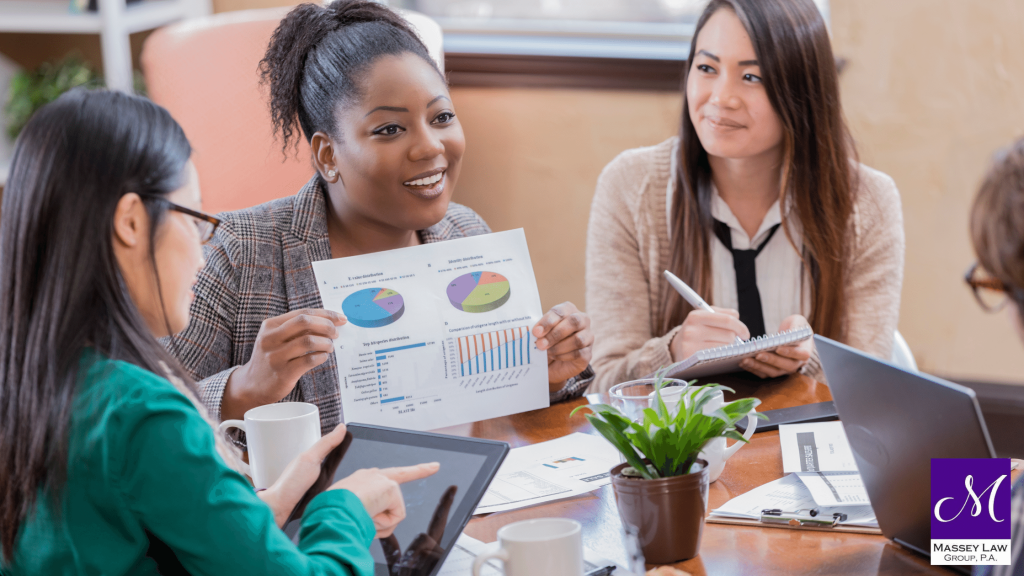 How does diversity and inclusion affect business?
In our previous blog "Diversity Cannot Be Dismissed," we discussed how the Florida Supreme Court's decision to essentially withdraw its promotion of diversity is a detriment to crucial progress being made within the legal profession. However, as many might not realize, diversity and inclusion matter in a financial sense as well.
In the United States, there is a linear relationship between diversity and better financial performance. When an organization's workforce is full of people with differing genders, sexualities, races, ethnicities, and cultures, the range of perspectives, world views, and experiences allows for better business decisions to be made and for significantly increased overall success — however you measure it. 
According to studies done by the University of South Florida[1], companies whose employees ranked in the top 25th percentile for racial and ethnic diversity logged returns exceeding the financial medians in their respective industries by 35 percent. When it comes to gender diversity, companies in the top 25th percentile were 15 percent more likely to top financial medians. However, the data shows that no company or industry is in the top 25th percentile for both gender diversity and racial-ethnic diversity.
With studies showing that diverse companies enjoy 2.3 times higher cash flow[2] per employee and diverse management boosting revenue by 19 percent[3], it is no wonder that 43 percent of companies with diverse boards are seeing higher profits[4] in the past few years.
Built In[5] reports that at 78%, most of the United States workforce is made up of white people. This means, unfortunately, that Black, Hispanic, and Latinx people experience marginally higher unemployment rates, and discrimination during the hiring process has allowed for these statistics to become the norm.
The same report mentions that  three out of four workers prefer to be employed by a diverse company. In addition, 48% of Gen Z, the rising members of the future workforce, are racial or ethnic minorities. With this in mind, companies that do not embrace diversity will soon be left behind.
There is an optimistic outlook on the future of the business world and what the financial landscape of a more diverse workforce could look like. Specifically, insights from the McKinsey & Company study[6] "Women in the Workplace 2021" shows that if the gender gap is narrowed by 2025, the worldwide GDP could increase by $12 trillion. Furthermore, a potential $2 billion dollars in additional revenue is on the line if financial inclusion efforts broaden services for Black Americans.  
All of the above is, of course, a big IF. IF business professionals want to step up, embrace diversity, and reap the financial benefits. IF not, the great resignation might seem like a mere blow to the workforce in comparison to what's to come. Diversity and inclusion are often discussed in a societal sense, but it is crucial to understand the economic appeal of creating a more diverse workforce to promote equality further.
While it may be cliché, it is true — money talks. For most businesses, the bottom line is usually the top priority. However, when significant improvements to financial measurements are happening at the hands of improving diversity and inclusion within an organization, businesses take notice. Diversity and inclusion have a long way to go until true equality is achieved, but the ball is in the businessperson's court. If business reflects society, shouldn't its members reflect the diverse world we live in today?
It's time to step up. 
Discover more, and read → Diversity Cannot Be Dismissed
---
[1] Why Diversity Matters and How You Can Create a More Inclusive Workplace | USF Corporate Training and Professional Education
[2] Bersin by Deloitte: Diversity and Inclusion Top the List of Talent Practices Linked to Stronger Financial Outcomes (prnewswire.com)
[3] Delivering-through-diversity_full-report.ashx (mckinsey.com)
[4] Delivering-through-diversity_full-report.ashx (mckinsey.com)
[5] 57 Diversity In the Workplace Statistics In 2022 | Built In
[6] Insights on Diversity and Inclusion | McKinsey & Company