Creator of the Quarter: Ashley Rivers
Posted on October 26, 2022, by Massey Law Group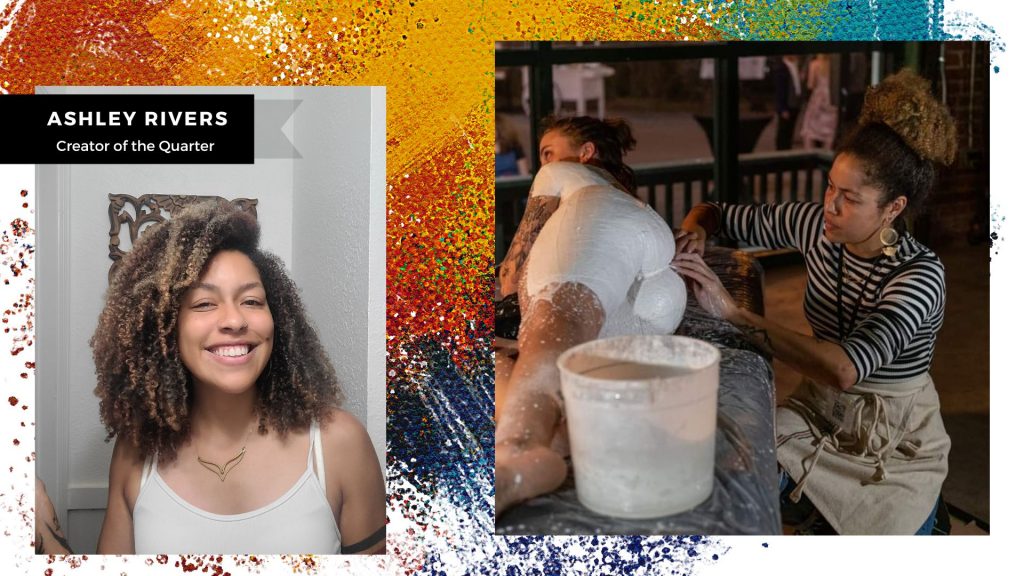 The Collab at 3833 has selected its second official Creator of the Quarter – Ashley Rivers! Ashley is a multitalented painter and sculptor whose work offers intimate moments of time and space and depicts stages of a journey in which individuals can engage with personal feelings, emotions, and thoughts. A St. Petersburg local, Ashley received her Bachelor of Fine Arts, with a concentration in sculpture, from the University of South Florida in the Spring of 2021.
About the Collab at 3833
The Collab at 3833 is a group of three lady lawyers coming together to promote female empowerment in the legal profession. The Collab values and supports artists and the arts and features an emerging, local artist in their shared office space during each quarter of the year. The Collab's Starlett Massey of Massey Law Group, Kristina Feher of Feher Law, and Liz Moneymaker of Ferrari, Butler, & Moneymaker, PLLC started the Creator of the Quarter program to provide artists with the space and resources they need to be successful.
In addition to a fully hosted opening art show, The Collab's Creator of the Quarter also receives a limited liability company courtesy of Massey Law Group, P.A., and a basic estate planning package courtesy of Ferrari, Butler, & Moneymaker, PLLC. 
Join us!
On November 3 from 5 to 7 p.m., Ashley's work will be featured in an art show sponsored by the Collab @3833! Ashley's artwork will be on display and available for purchase, including new, never before seen artwork, sculptures, and paintings.
We invite you to join us as we celebrate & support Ashley, enjoy light food and drinks, and come together as a community to empower local, emerging artists. RSVP here. 
Future Creators
Stay tuned for announcements regarding future Creator of the Quarters! We announce when applications are open on our Facebook page, and you can always check out the Collab's website for more information regarding eligibility.