First Creator of the Quarter Event Recap
On July 28, 2022, The Collab at 3833 hosted its first official Creator of the Quarter event! Surrounded by friends of The Collab and of the featured artist, David Smith, the event was a smashing success and a great kickoff to a program focused on elevating local, emerging artists. 
Creator of The Quarter 
The Collab at 3833 is a group of lady lawyers dedicated to collaboration, promoting female empowerment in the legal profession, and giving back to the community in tangible ways. The Collab's Starlett Massey of Massey Law Group, Kristina Feher of Feher Law, and Liz Moneymaker of Ferrari, Butler, & Moneymaker, PLLC aim to celebrate and support local, emerging artists. Their Creator of the Quarter program provides artists with the tools and platform needed for success. 
Each quarter, The Collab chooses one artist to utilize their shared law office space as a gallery for the three months that the artist is featured. In addition to a free art show, The Collab's Creator of the Quarter also receives a complimentary limited liability company courtesy of Massey Law Group, P.A., and a basic estate planning package courtesy of Ferrari, Butler, & Moneymaker, PLLC. 
Meet the Artist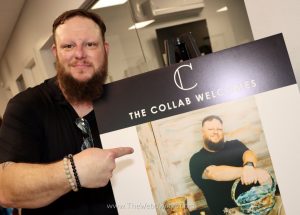 The Collab at 3833's first official Creator of the Quarter is ceramist David Smith. David Smith is a 46-year-old local, emerging ceramics artist whose practice focuses on functional art through familial utilitarian vessels from his personal memories. While Smith was studying photography at St. Petersburg College, he was encouraged to take a ceramics class and quickly became enthralled with the versatility and complexity of creating with clay. 
Eventgoers were impressed with David's craftsmanship and the intricacy of his work. Check out some of his pieces: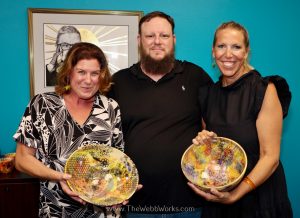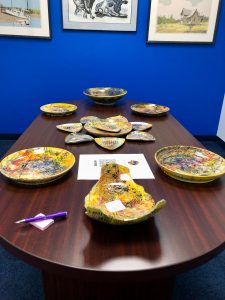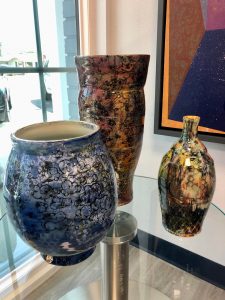 A Special Thanks to …
The Collab at 3833 would also like to extend a warm thank you to Sara-Ellen with the Lay Low Chateau for catering the event and to Jim Webb with The Webb Works for the amazing photos!
Apply to be featured!
If you or someone you know is a local, emerging artist and would like to be featured as our next Creator of the Quarter, we invite you to apply via our website. With an expected show date of October 27, the deadline for completed applications to be emailed to collabat3833@gmail.com is September 30, 2022. Additionally, please make sure to follow The Collab at 3833 on Facebook for news, updates, and more information on upcoming events!
Starlett Massey Reappointed for Fifth Term on The Florida Bar Diversity and Inclusion Committee
MLG Founding Shareholder, Starlett Massey, has been reappointed to The Florida Bar Diversity and Inclusion Committee and appointed to serve as Vice Chair and Vice Co-Chair of the Get Involved Subcommittee with Katherine Scott. Starlett's new term, which begins on July 1, 2022, marks the fifth consecutive year she has been selected for the committee. 
"I am grateful for the opportunity to serve the committee. It is an honor to work alongside passionate and dedicated attorneys to protect equality and rights and put in the good work," said Starlett. 
The Diversity and Inclusion Committee, founded in 2010, works with local communities and bar organizations to promote diversity and inclusion in the legal profession through a variety of events and initiatives. The committee has worked to make leadership positions within The Florida Bar and in the legal field accessible to all attorneys, including persons with disabilities and those who are racially, ethnically and culturally diverse, women, and members of the LGBTQ+ community.
The Diversity and Inclusion Committee has presented speaking events, awards programs, and initiatives to promote equality. These include the Florida Holocaust Museum's 2021 performance of "Letters from Anne and Martin"  and the 2022 "Path to Unity" Project, a traveling campaign that tells the story of The Bar's journey from a segregated past to the multi-cultural organization it is today.
The committee supports local bar associations' diversity and inclusion initiatives statewide through its Voluntary Bar Association Diversity Leadership Grants program. A total of $50,000 is available through $1,500 and $3,000 grants to voluntary bar associations in Florida. The grants foster an inclusive environment, expand knowledge and awareness of diversity and cultural competency, support gender equality, improve participation, increase retention and representation in local and specialty voluntary bars, and increase diversity in the legal profession.  
Diversity, equity, and inclusion are values that guide MLG's mission, and we are dedicated to promoting and encouraging these principles. We are proud of our community partnerships, including Florida CraftArt's "The Art of Healing", Collab 3833's "Art Elevates", and Champions for Children programs.
To learn more about The Florida Bar's Diversity and Inclusion Committee, please watch:
Larry Smith and the Fight for LGBTQ+ Equality
This June (and always), MLG is proud to support and celebrate members of the LGBTQ+ community. In honor of PRIDE month, we are sharing the story of Larry Smith, an openly gay lawyer who has been a trailblazer for LGBTQ+ representation in not only the legal field but in the state of Florida as well. 
Background
Larry Smith grew up in a poverty-stricken small town in rural northwest Alabama. His parents had only a sixth-grade level of education, and the house he lived in throughout his childhood had no running water. However, Larry was able to graduate from high school and pursue higher education at the University of North Alabama, where he earned a degree in criminal justice in 1979.
Early Career
After saving up enough money for two years post-grad, Larry entered law school at the University of Alabama School of Law in 1981. That same year, the Florida Supreme Court offered the LGBTQ+ community admission to The Florida Bar. This announcement was especially important to Larry because he, himself, is an openly gay man. In 1984, Larry graduated from law school and was admitted to the Florida Bar.
The Fight for LGBTQ+ Representation
In March of 1999, Larry noticed that Florida Justice Harry Lee Anstead was featured in The Florida Bar News, addressing professionalism and diversity. Justice Anstead was advocating for greater recognition of diversity as a part of the field's professional obligation to lawyers and the public and mentioned race, gender, and ethnicity as areas where The Bar could improve. Larry Smith was appreciative of Anstead's effort, but in a personal letter to the Justice, he challenged him to include sexual orientation as well. 
Justice Anstead eventually reached out to Larry and acknowledged that even though he didn't fully understand his perspective, it is a perspective that ought to be shared. "If", he challenged, "you want to be a part of the solution, I'll walk down the hall and ask the Chief Justice to appoint you to the Supreme Court Commission on Professionalism." "But," he added, "if you aren't willing to be part of that solution, then you wrote a very nice letter." Justice Anstead posed the question: "Are you part of the solution or part of the problem?"
Part of the Solution
Larry was worried about what his firm, colleagues, and clients would think about him being the first openly gay anything, never mind the first gay member of a Supreme Court Commission. However, something inside of him couldn't turn away from an opportunity to make a difference. Larry decided he would become part of the solution — a mindset he would continue to take with him throughout his entire career. 
From 2003 to 2010, Larry was a partner at Cabaniss Smith Toole and Wiggins, PL, which he helped grow into one of the largest litigation firms in Central Florida. From 2010 to 2020, he was a shareholder at Southern Trial Counsel, PLC, and he currently practices out of Rumberger and Kirk's Orlando office. 
In January 2020, Larry founded Variosity, an organization focused on helping law firms and corporations improve inclusivity. Deemed an "Institute for Inclusive Excellence", Variosity's programs aim to educate members on various topics that can help create a more inclusive community and culture. Variosity currently offers conversations on twelve topics, including addressing microaggressions, the gender pay gap, sexuality, disability, religion, and other evolving diversity issues. 
The Fight Is Not Over
In Florida, especially in recent news, the LGBTQ+ community has once again fallen under attack by unaccepting politicians and ignorant legislation. As we discussed in our recent blog covering the controversial Don't Say Gay Bill, it is evident that society still has a long way to go in the fight for true equality. However, thanks to pioneers like Larry Smith, who has been practicing law for over thirty years, the foundation for change is sturdy. 
Path to Unity
Larry Smith, like our previously featured Anna Brenner Meyers, is currently one of five trailblazer attorneys featured in The Florida Bar Diversity and Inclusion Committee's "Path to Unity" Project. The Florida Bar's "Path to Unity" project is a traveling campaign that will tell the story of the Bar's journey from its segregated past to the rich, multi-cultural organization that it is today. As the project moves from city to city, volunteer lawyers will share the stories of the five featured lawyers to middle and high school classes. 
The stories will make meaningful connections with the history of the U.S. Constitution, our country's civil rights history through the evolution of amendments to the Constitution, the implementation of federal laws, and U.S. Supreme Court rulings. The stories will explain how the modern civil rights movement has affected racial and gender equality as well as civic, disability, and sexual orientation rights.
Portraits of each of the lawyers have been painted by student artists and will be displayed at rotating Florida courthouses over the next two years. The "Path to Unity" project was unveiled in Jacksonville on September 20, 2021, and has already made its way through Miami-Dade County and Alachua County. This program is not to be missed. The remaining dates and locations are:
Lee County

: August 15, 2022 – September 30, 2022

Sarasota and Manatee Counties

: October 1, 2022 – November 1, 2022

Pinellas and Hillsborough Counties

: November 1, 2022 – January 31, 2023

Polk County

: February 1, 2023 – March 1, 2023

Bay County

: March 1, 2023 – April 15, 2023

Escambia County

: April 15, 2023 – May 15, 2023

St. Lucie County

: May 15, 2023 – June 20, 2023
To read more about Larry Smith's story and learn about the other "faces of change" featured in The Florida Bar Diversity and Inclusion Committee's Path to Unity program, check out its website. 
Starlett Massey Speaks at Event Celebrating RBG and Supporting Women in Justice and Law
The "Women in Justice and Law" event, held by Gulf Coast State College (GCSC) in Panama City, FL, honored the life and influence of Justice Ruth Bader Ginsburg, "The Notorious R.B.G." Starlett Massey, Founding Shareholder of MLG, and Shelley Clark, President of the League of Women Voters of Bay County, presented about RBG as an advocate for the rights of women and marginalized people in the U.S. 
They spoke about the importance of women lawyers having female role models, challenges women face today, and RBG's impact on them. Starlett provided data about the connection between diversity and the economy and how RBG's efforts helped women make progress in the fight for equal pay. She pointed out that there is much work to be done, particularly regarding intersectional feminism and women who have multiple minority statuses. 
Starlett highlighted how women in justice and law professions can support one another and educate themselves on intersectional feminism, especially to provide vital support to all women, regardless of race and sexual identity, including Black, Brown, transgender, and LGBTQ women. Her hope is for women to learn about our country's history — to appreciate the rights women have today and understand how to build upon that history to achieve equality. 
Starlett observed that the event occurred before the leaked Supreme Court of the United States opinion overturning Roe v. Wade. She believes the discussion would have been different and influenced by the potential of women enduring forced pregnancies and this impact on their ability to gain equal footing in the workplace. This is the reality faced, especially when maternity leave is not guaranteed and childcare is an obstacle to women joining the workforce.
Justice Ginsburg's Legacy
"Justice Ginsburg is a daily reminder that we must use our intellect, creativity, and passion to fight for equality for all," said Starlett. She points to RBG as a driving force in her work as a lawyer and her commitment to diversity, inclusion, and equity. 
When Starlett founded MLG, she knew her firm's mission and values must include a commitment to diversity and inclusion, racial and gender equity, and community involvement. MLG is proudly an active member of the Tampa Bay community through participation in The Florida Bar Diversity and Inclusion Committee, Pinellas Chapter of the Florida Association for Women Lawyers (PFAWL),  Champions for Children, and Florida CraftArt and through diversity initiatives and advocating for women. 
Starlett Massey specializes in in commercial litigation, corporate transactions, and real estate litigation. She serves on the Executive Council of the Florida Bar Committee for Diversity and Inclusion and Co-Chairs the Get Involved Subcommittee. Starlett serves as the Sponsorship Chair for the Pinellas County Chapter of the Florida Association for Women Lawyers and serves on the Board of Directors for Florida CraftArt, the Board of Directors for the Cultural Hub of NW Florida, and Co-Chairs the Community Council for Champions for Children.
Relying on Text or Email Exchanges to Secure a Real Estate Contract? Don't!
Much of our communication takes place via email or text message. In the current real estate market, minutes matter when making a purchase offer. As a result, realtors and their clients may rely on text messages and emails to communicate quickly. But realtors and agents should be cautious when using text messages and emails in place of executing a real estate contract.  
Massey Law Group (MLG) Strategic Litigator and Senior Counsel Jennifer Codding points to recent litigation in Florida's Fourth District Court of Appeal that sets a precedent for how courts view unsigned emails and text messages. In Walsh v. Abate, 47 Fla. L. Weekly D702 (Fla. 4th DCA 2022), the court found that an email and text message exchange did not constitute a contract. It was a violation of Florida's Statute of Frauds, which requires a real estate contract to be in writing and signed by the party against whom enforcement is sought. The trial court's ruling was appealed, but the Fourth District Court of Appeal agreed with the ruling.    
Background on Walsh v. Abate
In December 2020, a real estate agent representing a potential buyer made a $3.1 million offer to purchase a home. The buyer's agent made the offer on a Florida Bar/Florida Realtors form and sent it via email to the seller's agent. The seller's agent replied to the buyer agent's email stating the sellers wanted $3.4 million for the property at the same terms with a quick cash close.  
The buyer's agent replied to the email asking the seller's agent to "have the seller counter the offer on our contract for $3.4M, sign, and return, and I will get you the contract fully executed today." The seller's agent sent a text message to the buyer's agent that said, "accept the $3.4 million," and it requested a closing date of February 1. The buyer's agent responded by text, "Perfect and confirmed."
A few days later, the seller's agent emailed the buyer's agent, "Please let the buyer know that the seller thanks him for his patience and accepts $3.4 million." The buyer's agent then received another email from the seller's agent a few days later stating, "Seller accepted a different offer."
The buyer sued the seller of the home for specific performance.
Conclusion: Real Estate Contract Execution
In this case, rather than a written contract signed by both parties, there was only an offer followed by unsigned texts and emails by the agents for the buyer and seller. The seller never signed the written offer from the buyer, and neither party signed any documents with the new offer price of $3.4 million and closing date of February 1.
The bottom line — do not rely on text or email exchanges to secure a contract. A real estate contract is not considered executed unless the required parties have signed the necessary documents.
Jennifer Codding has extensive knowledge of real estate law and works with realtors to keep them updated on new and changing legislation. Her practice focuses on real estate transactions and litigation, including creditor representation, foreclosure, partition actions, evictions, contract disputes, property title defects, adverse possession claims, slander of title claims, quiet title actions, and declaratory judgment actions pertaining to unidentifiable mobile homes.
The above is intended to inform firm clients and friends about recent developments in the law, including analysis of statutes and new case decisions. This update should not be construed as legal advice or a legal opinion, and readers should not act upon the information contained herein without seeking the advice of legal counsel.  
Canines Take the Stand in Court Dog Programs
Fido is under oath! Therapy animals are being put to work in doctors' offices, hospitals, long-term care facilities, schools, and universities because of their ability to help people cope and feel less anxiety. In addition, the legal field has created a new role for therapy animals in recent years, especially in courtrooms.       
Animal-assisted therapy is on the rise because it helps individuals to cope with chronic health problems and provides comfort. For example, bonding with your pet can reduce blood pressure, anxiety, and stress and offer other health benefits. In a courtroom setting, the same benefits apply. 
Courts Are Going to the Dogs — in a Good Way
Attending and testifying in court can be scary. In situations with children, it often brings up painful memories and creates fear. Currently, 18 states have laws that allow facility and courthouse dogs to provide support in various settings. These range from being there to be pet and interact before testifying and remaining with a victim during their testimony or interview. 
There is federal legislation called the Courtroom Dogs Act that passed the Senate in 2019. It seeks to clarify the authority federal judges have in allowing certified facility dogs into court. Organizations like the Courthouse Dogs Foundation support the legislation and provide education and support to those in the legal field who wish to have animals in court. The American Bar Association has also recognized the positive impact animals have on the vulnerable, especially children, and included the topic in their 2021 midyear meeting.   
Court Dogs Helping Children Find Their Voice
Voices for Children is a Tampa organization that works with the Guardian Ad Litem program to advocate for children in the court system. They were the first organization in Florida to offer a courthouse facility dog program. Courthouse dogs receive extensive training to bring comfort to children who have to testify in court, participate in forensic interviews, or undergo medical exams. 
Tibet and Lorne are two dogs that work with Voices for Children in Tampa. Tibet recently retired after helping children for 8 years, including aiding a non-verbal abuse victim to provide details to prosecutors. Tibet also stayed by the side of a young boy whose father was on trial for killing his mother and sister and attempting to kill him. Both Tibet and Lorne have helped give a voice to children who may not physically be able to speak or are too afraid to speak. 
The courage and comfort courthouse dogs offer children are remarkable. From cuddles to pets and knowing the dog is by their side — or resting a paw or their head on them. A court dog brings children peace in their turbulent lives and helps them face things no child should ever have to face.
MLG is Pet Certified
When Massey Law Group (MLG) opened our new office in St. Petersburg in May 2021, we knew we wanted to include furry friends. So we applied to become a Pet-Friendly Certified Business by the City of St. Pete. Former Mayor Rick Kriseman launched the initiative to help make St. Pete a place where pets are included and welcomed. Mayor Kriseman even delivered our official certification personally.
MLG Founding Shareholder Starlett Massey believes in the vital role that pets play in our lives, and she wanted to ensure that the MLG team and clients are as comfortable and stress free as possible. Employees and clients are welcome to bring their pets into the office, and MLG has also adopted rescued cats, who provide daily comfort and friendship. The office felines, however, are waiting to have their day in court. Meanwhile, court dogs are providing extra love and invaluable service to the vulnerable.
More Businesses Celebrate Earth Day Every Day
Every April 22, the world celebrates Earth Day. Starting in the U.S. in 1970 and globally in 1990, Earth Day was born as an initiative for citizens and businesses to become environmentally conscious. 
An increasing number of companies are committing to being environmentally conscious by using sustainable resources in their products and packaging. They recognize that we have a give and take relationship with our environment, and they cannot only take resources. They need to use them wisely and give back to the environment by planting trees, reducing pollution and waste, sourcing materials safely, and using alternative energies.
Triple Bottom Line Model
People, profit, and planet are the three pillars that make up the triple bottom line (TBL) approach of doing business, and more companies are changing their strategies to follow this model. Profit is about making money and more. It is also how companies can succeed and give back to people, communities, and the planet. Companies are becoming more socially responsible by focusing on initiatives like fair wages and safety in the workplace. Businesses are also accounting for how their products and manufacturing affect the planet and want to leave a positive footprint on our environment through sustainability.
IKEA and Patagonia use the TBL model. Patagonia is committed to making apparel that does not harm the environment by using sustainable resources. It is a proponent of work-life balance for its employees and fair wages for the workers its suppliers employ. IKEA is conscious of how its products affect the environment, and it started a buy-back program for old products, pledging to use 100% recyclable or renewable materials by 2030. It is also vigilant about meeting international labor standards. 
B-Corporations
Companies need to set goals that help their people, profits, and our planet for the TBL model to work. They cannot just report numbers on paper. TBL needs to be part of their mission, values, and actions. Further, companies committed to social and environmental change are eligible to apply to become B Corp certified. 
B Corps have proven they are transparent in their commitments to social and environmental change and make legal changes to their corporate governance structures to be accountable to their stakeholders. With more than 4,000 companies worldwide certified as B Corps, the demand for certification is increasing.
How Does This Apply to My Business? Earth Day Every Day.
According to a Harvard Business School article, which compiled statistics on corporate social responsibility, 70% of Americans believe it's either "somewhat" or "very important" for companies to make the world a better place. The same article states that 77% of people are motivated to purchase products from companies committed to doing so. Consumers take note of what companies do, and so do employees. Of employees surveyed, 95% believe businesses should benefit all stakeholders, from employees and customers to suppliers and communities.
The conclusion is that consumers care, and they want companies to care about more than just profits. They want to know the businesses they patronize treat employees, suppliers, and communities with respect and dignity. Further, they want proof that the products they purchase are helping the environment by creating a positive legacy.
MLG is committed to the business community, providing services from business law to corporate formation and governance. We support businesses that are focused on the triple bottom line by helping them put successful legal and business strategies in place to positively serve people, profit, and our planet.
SAY GAY: Fentrice Driskell Advocates for LGBTQ+ Equality
On this year's National Day of Silence, MLG formally denounces Florida's controversial "Don't Say Gay Bill" and offers hope in the form of future leadership for LGBTQ+ youth. The Day of Silence[1] is a national student-led demonstration where LGBTQ students and allies take a vow of silence to protest the harmful effects of harassment and discrimination against LGBTQ people in schools.
This year, the National Day of Silence falls on April 8, 2022, almost one month after Gov. Ron DeSantis signed the "Don't Say Gay" Bill into action. While Florida has never had an impressive track record for supporting the LGBTQ+ community, this already vulnerable population is now so under attack by lawmakers following this egregious and aggressive piece of legislation.
What is the Don't Say Gay Bill?
The "Don't Say Gay Bill" is formally titled the "Parental Rights in Education"[2]  and bans public school teachers in Florida from facilitating classroom instruction surrounding sexual orientation or gender identity.
Why is this so dangerous?
According to Human Rights Campaign[3], LGBTQ+ youth are statistically more likely to be bullied than straight, cisgender youth. One can argue that bullying is a direct result of ignorance. In a state where LGBTQ+ topics are now considered taboo, it is unfortunate that an already alienated group of young people will soon fall victim to more ostracization due to the lack of education surrounding LGBTQ+ issues.
The CDC's Youth Risk Behavior Surveillance Results[4] show that 43% of transgender youth have been bullied on school property, with 29% reporting being threatened or injured with a weapon on school property. Furthermore, 29% of transgender youth have attempted suicide, followed by 22% of bisexual youth and 21% of gay and lesbian youth. With the severity of these statistics, it should be common sense that legislators allow educators, the adults who spend most of the day with these children, to be given the necessary resources to be an asset and a safe place for LGBTQ+ children. Instead, the Don't Say Gay Bill will create confusion and fear on behalf of our state's educators with regard to offering any support for our LGBTQ+ students; and create a chilling effect on classroom discussions of LGBTQ+ issues throughout our classrooms.
Adolescence is tough, confusing, and scary. However, it is also a time when young people learn who they are, experience formative lessons, and figure out how they will make their mark on this world. As perplexing as childhood is for straight and cisgender children, it is even more confusing for children who might fall under the umbrella of LGBTQ+ distinctions. As adults, we must make schools a safe place for children to feel comfortable being themselves. Intolerance and hatred are not inherent. They are taught. Classrooms should be a place of inclusivity and acceptance, and the "Don't Say Gay" bill will soon make that nearly impossible.
She's Got Our Vote
Let it be known that opposers of the "Don't Say Gay" Bill are not going down without a fight. Fentrice Driskell, a fierce advocate for LGBTQ+ equality, is a member of The Florida House of Representatives and is running for State House[5]. Born and raised in Polk County, Fentrice is doing the work necessary to protect LGBTQ+ children in Florida public schools.
When delivering her remarks in opposition to the bill, Fentrice argued that "It's very clear that the proponents of this believe in anti-gay rhetoric- it's suppressive"[6] and tearfully emphasized the unfortunate consequences that will occur when the bill goes into effect. For this reason, among other aligning values, MLG formally endorses Fentrice Driskell for State House District 67.
MLG is an Ally
MLG stands in alliance with the LGBTQ+ community, and we celebrate diversity and inclusion all year long by flying the Progress Pride Flag on our building. While Florida has a long way to go, MLG will always be a safe space for the LGBTQ+ community. We are proud to support progressive leaders, like Fentrice Driskell, who are fighting to make the state of Florida a place where love is love, and community members of all races, genders, sexualities, and other differences are celebrated.
---
[1] https://www.glsen.org/day-of-silence
[2] https://www.flsenate.gov/Session/Bill/2022/1557/BillText/er/PDF
[3] https://www.hrc.org/news/new-cdc-data-shows-lgbtq-youth-are-more-likely-to-be-bullied-than-straight-cisgender-youth
[4] https://www.cdc.gov/healthyyouth/data/yrbs/reports_factsheet_publications.htm
[5] https://fentriceforflorida.com/
[6] https://www.facebook.com/watch/?v=4822234944520270
Be a Champion for Children During Child Abuse Prevention Month by Donating Books
April is Child Abuse Prevention Month, raising awareness of the need to keep children safe from abuse and neglect. MLG partners with Champions for Children, a nationally accredited agency, to help protect those without a voice and provide positive tools, education, and support to strengthen families. 
Throughout April, MLG is hosting its 2022 Annual Book Drive for Champions for Children. Donated books will be distributed to families at events and community Book Nooks, part of the Champions for Children's Talk Read Sing program. Wish lists with suggested board books and children's books are available on Amazon and may also be purchased from any retailer of your choice. Books may be donated by mailing or dropping them off at the locations listed below.  
Learning Begins at Birth
The Talk Read Sing program encourages parents and caregivers to have regular, positive one-on-one interactions with babies and toddlers through talking, reading, singing, and playing. Resources like access to books in the home can help change the trajectory of families and children's lives. 
Starlett Massey, Founding Shareholder, reflects on time spent with her grandmother reading together. "My grandmother instilled in me a great love of reading at a very young age which I continue with my son. Children benefit greatly, and parents and caregivers also benefit from the one-on-one time spent with their children. Hopefully, the more we can educate parents and caregivers, the fewer children will suffer from neglect and abuse." 
Be a Champion for Children 
The statistics are staggering. According to the CDC, about 1 in 7 children were abused or neglected in the past year. The impact of abuse and neglect often lasts a lifetime, with children suffering from physical, emotional, and mental effects. Therefore, it is crucial that we continue to bring awareness to neglect and abuse for the health and safety of our children.
Champions for Children mission is to build stronger families in the Tampa Bay region. They achieve this through child abuse prevention and family education programs. Serving the Tampa Bay region since 1977, they provide support and education to approximately 40,000 people annually. 
Thank you for participating in our book drive and joining us Champions for Children to make our world a brighter place! Please mail or drop off book donations at:
Massey Law Group
3833 Central Ave  
St Petersburg, FL  33713-8339
(813) 868-5601
Champions for Children
Attn: Felicia Powell
3108 W. Azeele St.
Tampa, FL 33609
(813) 673-4646
The Three Best Ways to Support Local Artists
It is no secret that artists are, unfortunately, among the most demographically exploited profession. Artists foster culture, beauty, and a sense of unity with their work, but they rely heavily on community support to survive. We spoke with Tesa Burch, the Programs Director of the Cultural Hub of Northwest Florida, who provided insights into three of the best ways you can support your local artists today.
Attend Art Receptions and Shows
Attending art shows allows artists to get more exposure and facilitate an opportunity to feel appreciated for what they do. Plus, they are super fun and a great activity for people of all ages. The Cultural Hub of Northwest Florida provides an events page for community members to find nearby art showings.
Buy Art From Working Artists
Like any other profession, artists need to make money to continue their work. Supplies are expensive, and time is valuable. Commissioning local artists to create a piece of art for you or buying art from their existing collection is the best way you can financially support working artists right now. You get a unique, beautiful piece of art for your home, and artists get compensated for their work – everyone wins!
Like, Share, and Tag Artists on Social Media
In the age of social media, artists are often not fairly credited for their work. For this reason, it is important to tag the appropriate artist when reposting their work. Sharing local artists on social media also expands their network, and allows for more people to see and appreciate their art.
What is the Cultural Hub of Northwest Florida?
The Cultural Hub of Northwest Florida is a nonprofit organization devoted to elevating artists and the arts to advance community healing and resiliency. Started by MLG's own Starlett Massey's father, Maxwell Miller, The Hub, more simply put, is where the art is.
According to Tesa Burch, art is crucial to a functioning community. "When you support local working or student artists, you are helping the arts grow in your community," says Burch. "Every time an artist feels like it's worth their time to be creative, they are more likely to devote themselves to their artistic work, which benefits everyone."
Starlett Massey acts as the Hub's President and Executive Director, and MLG Attorney Nikki Barker is the organization's secretary. The Hub recently relaunched and is currently planning its first event centered around supporting local artists in Panama City.
A Family Legacy
On March 17, Massey spoke at Panama City's City Hall to honor her grandmother, Mary Ola Reynolds Miller, and give some insight into her family's lengthy history of offering an alliance to artists. In 1966, Mary Ola Reynolds Miller established the Gallery of Art in Panama City in an abandoned gas station. Soon, the gallery would become a place for local artists to exhibit their work year-round, and by 1971 the Gallery of Art was successful enough that it moved to a larger location on Beach Drive. The Cultural Hub of Northwest Florida is continuing the legacy of supporting artists and elevating the arts in this same location.
Follow the Hub's Facebook page to stay up to date on all the fun things that are soon to come and learn more about how you can support the arts and local artists.