Emerging Artist Dakota Parkinson at the Florida CraftArt Festival
Massey Law Group has selected ceramist Dakota Parkinson for its sponsorship of an emerging artist at the Florida CraftArt Festival. Dakota is a talented resident artist at the Morean Center for Clay. A non-binary trans woman, Dakota prefers they/ them pronouns. Their early work can be characterized as midwestern folk art through a lens of the transgender experience. Their work has evolved into functional abstract ceramics that provides a perspective on the existential experience of mourning that comes with being a trans person, especially in today's current social and political climate. Keep reading to learn more about Dakota, their work, and how you can join MLG in supporting St. Petersburg's art community in tangible ways. 
Meet Dakota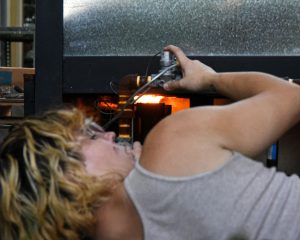 Dakota followed a unique path to finding their artistic voice. After studying exercise physiology at the University of Columbia Missouri, Dakota began working long hours as a professional in microbiology labs. At the same time, Dakota was introduced to ceramics as a hobby and began assisting in pottery classes. When the pandemic hit, Dakota decided it was time for a change. So, they quit their job as a scientist and began volunteering at a local pottery studio where they were able to spend more time furthering their practice, eventually becoming a resident artist.
Dakota says they tend to draw inspiration from abstract artists, as abstract art is about tapping into the primal connection with personal worldly experiences. Dakota mentioned that with certain pieces they will be creating functional art and following paths of deviation directed by their inner self. A lot of their work feels movement-oriented, making the process of creating feel like a performing art. Dakota says they are drawn to working with clay because its reaction to movement is very direct, and they aim to create an empathetic response within their pieces. 
One of Dakota's most notable works was a solo exhibition, "MARKERS," a collection of expressionistic funerary sculptures placed within a clinical environment. Dakota aimed to create a space for mourning the trans people who are unable to live their truth, those who had passed away, and as a reflection of Dakota's own experience before transitioning. 
Bowls4TheGirls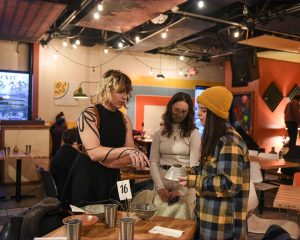 Bowls4TheGirls is an event started by Dakota to give back to the trans community who had been supportive of them and their artistic journey. Partnering with The Café Berlin, Dakota created 120 bowls for serving soup to event goers. After covering their costs, Dakota donated 30% of the proceeds directly to trans women in need.
Advice From the Artist
MLG is always looking to spread the word regarding how to support the art community. As explained by Dakota, supporting artists monetarily and voting for policymakers who support funding for the arts are two of the best ways to show solidarity. 
Additionally, Dakota offered a bit of wisdom for other emerging artists looking to elevate their practice: "People like to help," they said. "So don't be afraid to ask for help." Dakota emphasizes that "if there isn't space for you, create space for yourself." Elevate others in your community, create a channel of support, and work to expand opportunities for yourself and others – there is room for everybody."
Florida CraftArt Festival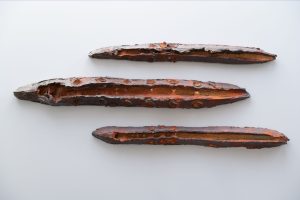 Dakota, along with numerous other talented artists, will be featured as emerging artists at this year's annual Florida CraftArt Festival on November 19th – 20th. Art lovers and philanthropists are offered the opportunity to support emerging artists at the Florida CraftArt Festival. This is an opportunity to forge a relationship with artists at the beginning of their careers and become a part of their progress. Florida CraftArt's emerging artists receive a 10'x10' booth in the festival, professional mentoring by Duncan McClellan, photography of their work by Brian James, postcards, and a meal stipend. This is their chance to show and sell their work to a crowd of art lovers, and we encourage you to attend!
MLG Loves Artists
Massey Law Group is always looking for opportunities to give back to the art community. MLG's offices are located in the Collab at 3833, a shared space for lady lawyers looking to make a change in the community. The Collab is also dedicated to supporting local, emerging artists and hosts events like Creator of the Quarter art shows. MLG's own Starlett Massey serves as a legal advisor to The Coalition of Hispanic Artists and also serves on The Florida Bar's Diversity and Inclusion Committee, which is currently sponsoring the statewide Path to Unity Project featuring portraits painted by local student artists. Learn more about Massey Law Group, our legal services, and our other community outreach here.
MLG Adopts Two New Rescue Cats
MLG's furry family is growing! Since our office building became pet certified by the city of St.Pete, we have fostered numerous cats and welcomed our team's personal pets to join us at work. Recently, the last of our original office kitties were adopted out to our employees' homes. But, we knew we couldn't stay cat-less for long, so MLG decided to adopt a pair of bonded female kitties!
Our Newest Friends
Meet Thelma and Louise, our fabulous new felines! After much deliberation and the help of our amazing MLG community, who participated in a cat-naming contest, our team decided on these names for our new friends. Thelma is our 6-year-old Hemingway cat, with six toes on her two front paws! Louise is our 5-year-old tabby who has made herself quite at home in our office space.
The Importance of Adopting
According to the ASPCA, approximately 1.5 million animals are euthanized at kill shelters each year. Lack of space, resources, and people looking to adopt often leads to older animals, animals with health issues, or animals who have been at the shelter for an extended period, unfortunately, being put down. 
For this reason, MLG is proud to support Pet Pal, a local shelter on a mission to rescue dogs and cats from kill shelters and provide them with an opportunity to be adopted. Pet Pal is also dedicated to educating the public about pet overpopulation, the importance of spaying and neutering, and fostering responsible pet ownership in the community. In 2008, the shelter built a veterinary clinic offering affordable pet services to the community. Pet Pal also opened a thrift store where 100% of the profits are used to operate the shelter. As a non-profit organization, Pet Pal relies solely on donations. If you would like to make a charitable contribution and learn more about their mission, please visit the Pet Pal website.
Since MLG is a pet-friendly office space, clients are welcome to bring their cutest companions when visiting our attorneys. While all members of our team are animal lovers, we know that furry friends aren't for everyone, which is why we also offer restricted parts of our space, including a pet-free conference room, to accommodate all of our client's needs. Looking for real estate or business legal assistance? Schedule a consultation with MLG today!
Creator of the Quarter: Ashley Rivers
The Collab at 3833 has selected its second official Creator of the Quarter – Ashley Rivers! Ashley is a multitalented painter and sculptor whose work offers intimate moments of time and space and depicts stages of a journey in which individuals can engage with personal feelings, emotions, and thoughts. A St. Petersburg local, Ashley received her Bachelor of Fine Arts, with a concentration in sculpture, from the University of South Florida in the Spring of 2021.
About the Collab at 3833
The Collab at 3833 is a group of three lady lawyers coming together to promote female empowerment in the legal profession. The Collab values and supports artists and the arts and features an emerging, local artist in their shared office space during each quarter of the year. The Collab's Starlett Massey of Massey Law Group, Kristina Feher of Feher Law, and Liz Moneymaker of Ferrari, Butler, & Moneymaker, PLLC started the Creator of the Quarter program to provide artists with the space and resources they need to be successful.
In addition to a fully hosted opening art show, The Collab's Creator of the Quarter also receives a limited liability company courtesy of Massey Law Group, P.A., and a basic estate planning package courtesy of Ferrari, Butler, & Moneymaker, PLLC. 
Join us!
On November 3 from 5 to 7 p.m., Ashley's work will be featured in an art show sponsored by the Collab @3833! Ashley's artwork will be on display and available for purchase, including new, never before seen artwork, sculptures, and paintings.
We invite you to join us as we celebrate & support Ashley, enjoy light food and drinks, and come together as a community to empower local, emerging artists. RSVP here. 
Future Creators
Stay tuned for announcements regarding future Creator of the Quarters! We announce when applications are open on our Facebook page, and you can always check out the Collab's website for more information regarding eligibility. 
Thank You for Your Donation!
Sometimes, tragedies really do serve as a beautiful reminder of all the good humans in the world. Hurricane Ian left a terrible scar on Fort Myers and the surrounding areas. In just a couple of days, so many of you showed up with donations, donated cash, and gave your time that we collected over $10,000! We were able to get necessities to the pantry at Mount Pleasant Missionary Baptist Church in Ft Myers and the shrimpers at Trico Shrimp Company on Ft Myers Beach.
We drove a 5-vehicle caravan filled with supplies and delivered them directly to those in need. We provided much needed formula, diapers, baby products, toiletries and cleaning products to Mount Pleasant, along with a number of other items. This church is keeping hope alive and keeping its community's basic needs met in a truly magical way. I hope helps keeps coming and they can rebuild better than before.
We provided the shrimpers at Trico with food, 4 generators, chainsaws and the rest of our haul. These families live on their shrimping boats. When you see the photos of the boats washed up one on top of another, know that these shrimp boats are also their homes. They are camping nearby while they work to put their lives back together.
None of this happens without people who care a lot for the well being of strangers. Special thanks to Melissa Archer for spending the time to ensure the right supplies went to the right people, to Angie Day for logistics and always knowing what to do, to Dave and Denise Sherberg for their time and energy collecting provisions, and to Stacy Hatley, Joe Sakowski, Jayne Sutcliffe, Christian Marcelli, and Rebecca Yagerman Deming for giving up most of their weekend to make this happen.
Thank you so much to everyone who contributed: John Brant, Sara Fairbrother Davis, Ashley Gooch Frankenberg, Michele Gelsomino, Kevin Richardson, Chris Hieber, Bill Georgiou, Martha Ghobrial, Meg Cox, Niki Heanssler, Joanne Pak, Teresa Trejo, Joe Day, Bonnie Day, Lois Willard Marcelli, Casimira Pittman, Maressa Glass, Maggie Albersman, Deanna Tedone, Rebecca Deming, Serafina Baldacchino, Kristen Agin Baraky, Mary Archer, Tracie Mayo, Maria Cao, Heena and Gautam Thakkar, Denise Deack, Amy Christiansen, Sabrina Beavens, Heather Smith Cash, Mitzi Amon, Vicki Poiley, John Krauss, Jayne and Neil Sutcliffe, Stacy Hatley, Katherine Scott, Emily Burgoyne, Jill Hernandez, Sarah Hoerber, Staci Solomon Haahr and Hans Haahr, and our friends at Pinellas County Chapter of the Florida Association for Women Lawyers.
Special thanks to our corporate sponsors: Bayway Dental, The Burg Bar & Grill, ProVet Legal, Pine Brook Pharmacy, Haahr Law group and Massey Law Group, P.A.
How to Help Those Affected by Hurricane Ian
In the aftermath of Hurricane Ian, impacted communities are facing devastating destruction. In times of great tragedy, we often see the best of humanity. In the week since Ian made landfall, volunteers from all over the country are rallying behind impacted areas. As a community, we are responsible for supporting our neighbors as they begin to recover and rebuild. In this blog, you will find information on where to donate, how to get involved, and resources for survivors of Hurricane Ian. 
MLG Hurricane Ian Relief Drive
This weekend, our MLG team will be traveling to underserved communities affected by Hurricane Ian to bring relief supplies. If you are able to donate any of the items below to our drive, please deliver them to our office at 3833 Central Avenue in St. Pete by Friday, October 7. Monetary donations are also gratefully accepted and can be sent via Venmo to @starlett-massey.
We are collecting:
Gas

Nonperishable (cans with pop tops only)

Water

Air mattresses (auto-inflate/no power needed)

Medical supplies / first aid kits

Bleach

Vinegar

Baking soda

Pet food / supplies

Shovels / brooms / saws

Batteries

Feminine care products

Chainsaws, with gas and oil, replacement blades

Work gloves

Trash bags

Wet wipes and other hygiene products

Bug spray

Fix a flats

Tarps

Diapers

Baby wipes

Toiletries
Ft. Myers Donation Drop-Off/ Resource Locations
Below are donation drop-off and resource locations for you to directly provide aid to impacted communities in Ft. Myers and Ft. Myers Beach. 
Mount Pleasant Missionary Baptist Church
7240 Concourse Drive, Ft. Myers, FL 33908
Contact: Pastor Terry Mobley
** For those in need, this location is providing hot meals for residents.
Harlem Heights Food Pantry 
10511 Gladiolus Drive, Ft. Myers, FL 33908
Open every day 11-4
Contact: Miriam Ortiz
** This location does not accept clothes. All other supplies below are needed.
Supplies requested:
Bug spray

Sunscreen

Air mattresses

Manual can opener

Baby products

Diapers

Formula

Baby wipes

Powdered milk and shelf stable milk

Drinks and drink mixes other than water

Water (gallon jugs)

First aid supplies

Cleaning supplies

Bleach

Clorox wipes

Shop towels

Buckets

Mops

Brooms

Rakes

Trash bags

Gloves (yard work and rubber)

Flashlights and batteries

Clothing and shoes

NEW socks and underwear

Shoes

Rain boots

Summer clothing in good condition

Hygiene products

Toilet paper

Feminine hygiene products (small boxes or individually wrapped)

Toothpaste, toothbrushes

Hand soap, body soap, shampoo, conditioner

Linens

Towels

Washcloths

Bedding, pillows

Pet supplies

Bikes (for adults who lost their cars)

Lighters
Ft. Myers Beach
Trico Shrimp Company: Drop-off at either location
1300 Main Street, Ft. Myers Beach, FL 33931 or
15921 Husky Lane, Ft. Myers, FL 33912
Supplies Requested: hygiene products, underwear, shoes, hats, sunscreen
Ft. Myers Beach Community Foundation
The Fort Myers Beach Community Foundation is a great place to donate, as the cash collected goes directly to impacted residents. Learn more here.
Cajun Navy Foundation
The Cajun Navy arose out of the devastation of Hurricane Katrina in 2005 and has established itself as a committed, efficient volunteer organization. If you would like to donate funds, please do so at its official website.
American Red Cross
Now more than ever, there is an urgent need for blood donors. If you are able to donate blood, please make an appointment via The American Red Cross website. The American Red Cross is also taking monetary donations to directly help those affected by Hurricane Ian. You can send a financial gift to impacted communities here. 
Legal Assistance for Survivors
Massey Law Group is proud to refer our colleague, Vanessa Ross, to those directly impacted by Hurricane Ian in need of legal assistance. Ross Legal Group is based out of Sarasota and specializes in insurance claims. 
Additional Resources
As the rebuilding process begins, MLG will use its platform to share vetted resources for donors and those impacted by this horrific natural disaster. As Floridians, we will continue to support our neighbors in need as they heal from the unimaginable destruction brought on by Hurricane Ian.
Housing Trends: Softening Real Estate Market in Tampa Bay
Homeowners in Tampa Bay have enjoyed a booming housing market over the last few years. On the other hand, prospective homebuyers looking to move into the Tampa Bay area have faced inflated housing costs, bidding wars, forced inspection waivers, and repeated outbids by cash investors. According to recent trends, Tampa Bay buyers may see a cooldown of the recently red-hot real estate market. However, it's worth noting that a slowing of the residential real estate market may not result in substantially lower housing prices for the Tampa Bay area for some time.
As stated in The Tampa Bay Times, increased mortgage rates have slightly decreased demand for homes in the area. For example, homes that would have previously received 5-6 above-average offers are now receiving 2-3 offers at list price, increasing inventory for buyers who can afford to purchase despite the increase in financing costs. 
The Tampa Bay Business Journal reports that the nationwide slowing of the housing market has decreased housing prices, with Florida reflecting this trend on a smaller scale. Bay News 9 also reports that Tampa Bay's recent sellers' market has begun to turn into a buyers' market, allowing for fewer offers and more room for negotiation. 
That said, Tampa Bay has not seen, and may not face for some time, a significant decrease in housing prices. The number of people relocating to this area daily buffers residential values to the benefit of local homeowners. According to the Tampa Bay Times, 9,000 more people moved to Tampa than moved away during January and February of 2022. 
With the ever-changing landscape of real estate issues in Florida, it is recommended to consult with a lawyer regarding any questions you might have regarding any real estate transaction. We provide our clients with a wide range of real estate legal services to help navigate the market. 
Keeping an Eye Out for Fraud
As a real estate law firm, MLG has seen an increase in residential real estate fraud, from issues created by unethical investors to the recordation of fraudulent deeds without the owner's knowledge. For property owners in Florida, as usual, the simplest advice is the best advice, be sure to read every piece of mail that you receive. In several cases, it is a piece of junk mail that alerts property owners to a fraudulent transaction, either attempted or completed. As with any real estate contract, time is of the essence, and the sooner an issue can be addressed, the more straightforward the resolution will likely be.  
Real Estate Purchase Contracts
When you make an offer to purchase a home, you will present a purchase contract that outlines the details, including the buyer's offer, financing, closing information, inspections, when the contract could be voided, etc. Typically, real estate agents draft these from a template, but a real estate attorney can review the documents to ensure all terms and conditions satisfy legal requirements and are in your best interest. If your real estate transaction is unique or complicated, a real estate attorney should draft a customized contract that is tailored to your specific circumstances.  
Inspections and Repairs
A home inspection performed by a reputable, licensed inspector often uncovers issues with a property that must be addressed prior to closing. Real estate attorneys can assist with negotiations between the buyer and seller regarding repair specifications and costs. A lawyer is also instrumental in analyzing detailed inspection findings and drafting the necessary documents that permit the buyer to withdraw their purchase offer. Additionally, a real estate lawyer can assist buyers with the legal aspects of construction and remodeling projects.  
Titles and Closings
It is almost time to close on your new home — your purchase offer was accepted, and your property passed inspection! But what if there is a snag, such as a lien on the property? A real estate lawyer will research the lien and help the buyers and sellers navigate the process of removing the lien. They will also ensure that the title insurance on the property covers potential title issues that can arise.  
The path to homeownership is often stressful. Having a real estate lawyer in your corner can protect you with a proactive approach and guide your path to the closing table. MLG has skilled real estate lawyers with experience in all aspects of real estate law, from reviewing purchase contracts, researching property titles, and litigating title defects to handling family transfers of property. Learn more by scheduling a consultation today!
Mario Goderich and Cuban American Legal Achievements
In honor of Hispanic Heritage Month, we share the story of Mario Goderich: a Cuban American trailblazer in the legal profession and an inspiration to lawyers of every background. 
Mario Goderich's Background
Mario P. Goderich was born in 1930 in Santiago de Cuba, Oriente, Cuba. Goderich's parents enrolled him in a Virginia high school to seek a better education and broader opportunities for their son. After graduation, Goderich returned to Cuba, where he attended the University of Havana School of Law and received his Doctor of Civil Laws degree in 1957. He opened his law firm, Castellanos & Goderich, and practiced law in Cuba for a few years before officially immigrating to the United States in 1961.
Early Career
After immigrating, Goderich graduated from the University of Miami School of Law in two and a half years and earned his Juris Doctor in 1966. However, because he was going through the naturalization process, Goderich was ineligible for Bar admission immediately after his law school graduation. During the interim, he worked as an associate law librarian at the University of Miami School of Law. He was eventually promoted to University of Miami Law Library director while also working as a law professor at the university. After being granted American citizenship, Goderich was admitted to The Florida Bar in 1969.
Goderich and CABA
Looking to support Hispanic Americans in the legal profession, Goderich helped found the Cuban American Bar Association (CABA) and acted as the organization's first president from 1974-1975. Today's CABA is open to judges, lawyers, and law students from all backgrounds who are interested in issues affecting the Cuban community and broader legal and human rights issues impacting all minority communities.
CABA's mission is: "to promote equality of our members; increase diversity in the judiciary and legal community; serve the public interest by increasing awareness to the study of jurisprudence; foster respect for the law; preserve high standards of integrity, honor, and professional courtesy among our peers; provide equal access to and adequate representation of all minorities before the courts; facilitate the administration of justice; build close relationships among our members; provide mentoring and scholarship to law students nationally; and support the indigent community through the funding and administration of an effective pro bono legal assistance project and other community programs."
Other Accomplishments
In 1975, Florida Governor Reubin Askew appointed Goderich as the first ever Hispanic American male to serve as a judge of Industrial Claims. 
 Adding to his list of titles, Goderich was also the first Hispanic American man to be appointed judge for the Eleventh Judicial Circuit. He was reelected without opposition in 1980 and 1986. In 1990, Florida Governor Bob Martinez elevated Judge Goderich to the Third District Court of Appeals. He was the first Cuban-American to sit on all three of those courts and the first Latin-American to sit on any court of appeal in the United States. From 1995 to 1997, he served on the Supreme Court Committee on Standard Jury Instructions in Civil Cases.
In 1981, the Florida Council on Crime and Delinquency bestowed upon Judge Goderich its Outstanding Judge recognition. In March 1986, he was presented with The Lawyer of the Americas Award by the University of Miami InterAmerican Law Review. In 1988, the Republic of Colombia bestowed on Judge Goderich the Order of Democracy. He was the first recipient of the Francisco Garcia-Amador Award presented by the Center for Hispanic and Caribbean Legal Studies at the University of Miami School of Law in 1997. Additionally, he was honored in 2004 with St. Thomas University School of Law's Jurist of the Year Award and by the creation of a Cuban American Bar Association Merit Scholarship in his name at Florida International University.
Judge Goderich retired from the Court in 2005 upon reaching mandatory retirement age.  
Path to Unity
Mario Goderich is one of five attorneys featured in The Florida Bar Diversity and Inclusion Committee's "Path to Unity" Project. According to The Florida Bar, "The 'Path to Unity' project is a traveling campaign that will tell the story of the Bar's journey from its segregated past to the rich, multi-cultural organization it is today." As the project moves from city to city, volunteer lawyers will share the stories of the five featured lawyers to middle and high school students. They will connect their stories to the history of the U.S. Constitution, our country's civil rights history through the evolution of amendments to the Constitution, the implementation of federal laws, and U.S. Supreme Court rulings. Their stories will explain how the modern civil rights movement has affected racial and gender equality as well as civic, disability, and LGBTQ+ rights.
Portraits of the lawyers have been painted by student artists and will be displayed at rotating Florida courthouses over the next two years. The "Path to Unity" project was unveiled in Jacksonville on September 20, 2021 and will be in the following cities during the remaining dates:
Lee County: Present Day – September 30, 2022

Sarasota and Manatee Counties: October 1, 2022 – November 1, 2022

Pinellas and Hillsborough Counties

: November 1, 2022 – January 31, 2023

Polk County: February 1, 2023 – March 1, 2023

Bay County: March 1, 2023 – April 15, 2023

Escambia County: April 15, 2023 – May 15, 2023

St. Lucie County: May 15, 2023 – June 20, 2023
To read more about Mario Goderich and learn about the other "faces of change" featured in The Florida Bar Diversity and Inclusion Committee's Path to Unity program, check out their website. MLG is dedicated to providing a platform for sharing these lawyers' stories to promote diversity, inclusion, and equity and the "Path to Unity" project. Enjoy previously featured stories about attorneys featured in "Path to Unity," including Anna Brenner Meyers and Larry Smith. Stay tuned for more!
MLG Supports The Coalition of Hispanic Artists
This Hispanic Heritage Month, Massey Law Group (MLG) is dedicated to celebrating and supporting the Hispanic American community. MLG's Starlett Massey has served as a legal advisor to The Coalition of Hispanic Artists (CHA) Board of Directors since 2020. Keep reading to learn more about CHA, its programs, and how you can tangibly support local Hispanic artists today!
Coalition of Hispanic Artists' Goal
CHA is a nonprofit organization founded in 2007. Its mission is to provide Hispanic artists a secure cultural environment for development and an opportunity to exhibit and promote their talents. This allows Hispanic artists and art to be appreciated and enjoyed by the Tampa Bay community and art admirers while educating the public about the history, culture, and diversity of Hispanic art. 
"The Board of Directors of CHA has created an incredible organization that inspires creativity, celebrates diversity, and empowers Hispanic artists to realize their potential and make a positive impact in the world. It is my privilege to serve as legal advisor and support Hispanic art and culture in Tampa Bay," says Massey. 
CHA uses its online platform to post calls for artists, highlight local events, and share educational workshops and tutorials. Additionally, CHA assists Hispanic students who want to pursue a career in the visual arts through The Jose Murani Scholarship Foundation. To learn more about CHA and its artists and activities or to make a charitable donation, go to: www.artcha.org.
Additional Support to The Art Community
Starlett is no stranger to supporting the local art community. MLG's offices are located in the Collab at 3833, a shared space for lady lawyers looking to make a change in the community. The Collab is also dedicated to supporting local, emerging artists and hosts events like Creator of the Quarter art shows. If you or someone you know is a local, emerging artist and would like to be featured as the Collab at 3833's next Creator of the Quarter, we invite you to apply via the Collab's website. The next show date is November 3, 2022, and the deadline for applications to be emailed to collabat3833@gmail.com is September 30, 2022.
The Path to Unity Program is Coming to Pinellas County!
The Florida Bar's Path to Unity Program is officially coming to St. Pete from November 1 to December 15, 2022! The immersive program features five trailblazing Florida lawyers whose significant contributions paved the way for historically excluded attorneys within the legal profession. Over the past year, The Path to Unity Program has traveled around the state with the displays of the portraits of the legendary lawyers, painted by commissioned student artists, in Florida courthouses. 
In addition, volunteer lawyers provide education and tours to middle school, high school, and college students on the history of the Civil Rights Movement in the context of the U.S. Constitution, its amendments, federal laws, and U.S. Supreme Court rulings relevant to each featured lawyer's lived experience.
The five lawyers being featured in the exhibit include:
James Weldon Johnson – 

the first Black lawyer admitted to The Florida Bar through an individual examination who also wrote the hymn "Lift Every Voice and Sing" in 1900 that became referred to as the Black national anthem

Anna Brenner Meyers – 

the founding member and first President of the Florida Association for Women Lawyers

Judge Mario Goderich – 

the first President of the Cuban American Bar Association and the first Hispanic/Cuban American to hold all of his judicial posts

Larry D. Smith – 

a tireless advocate for the LGBTQ community and the first openly gay member to serve on the Supreme Court Commission of Florida

James Kracht – 

a blind and fierce advocate for blind lawyers in Florida and Past President of the Florida Council for the Blind, who helped organize The Florida Bar's first CLE seminar about lawyers with disabilities 
MLG has been featuring, and will continue to feature, each of the lawyers' stories in blogs to emphasize the importance of their contributions. MLG's Starlett Massey has a personal commitment to justice and equality and has served on The Florida Bar Diversity and Inclusion Committee since 2018. She is a co-author of the Path to Unity school presentation and serves as Co-Chair of the Pinellas County Path to Unity Program Committee. 
Starlett has recently been reappointed to The Florida Bar Diversity and Inclusion Committee and serves as a Co-Chair of the Get Involved Subcommittee and on the Ad Hoc Path to Unity Committee. Starlett's new term, which began on July 1, 2022, marks the fifth consecutive year she has been selected for the state-wide committee. 
"Giving children the opportunity to learn about our country's history and progress in the evolution of civil rights through the lens of the legendary attorneys who helped pave these roads is a meaningful way that attorneys can contribute to our community." – Starlett M. Massey
If you would like to sponsor, volunteer, or participate in the Path to Unity Program in Pinellas County, please contact Starlett Massey at smassey@masseylawgrouppa.com or Kyleen Hinkle at kahinkle@burnswhite.com. If you would like to learn more about the program, view the remaining stop dates, or support the Path to Unity by donating, please contact Charlie Ann Syprett, Chair of the Ad Hoc Path to Unity Subcommittee, at csyprett@verizon.net or at (941)350-1089.
First Creator of the Quarter Event Recap
On July 28, 2022, The Collab at 3833 hosted its first official Creator of the Quarter event! Surrounded by friends of The Collab and of the featured artist, David Smith, the event was a smashing success and a great kickoff to a program focused on elevating local, emerging artists. 
Creator of The Quarter 
The Collab at 3833 is a group of lady lawyers dedicated to collaboration, promoting female empowerment in the legal profession, and giving back to the community in tangible ways. The Collab's Starlett Massey of Massey Law Group, Kristina Feher of Feher Law, and Liz Moneymaker of Ferrari, Butler, & Moneymaker, PLLC aim to celebrate and support local, emerging artists. Their Creator of the Quarter program provides artists with the tools and platform needed for success. 
Each quarter, The Collab chooses one artist to utilize their shared law office space as a gallery for the three months that the artist is featured. In addition to a free art show, The Collab's Creator of the Quarter also receives a complimentary limited liability company courtesy of Massey Law Group, P.A., and a basic estate planning package courtesy of Ferrari, Butler, & Moneymaker, PLLC. 
Meet the Artist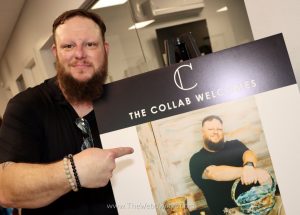 The Collab at 3833's first official Creator of the Quarter is ceramist David Smith. David Smith is a 46-year-old local, emerging ceramics artist whose practice focuses on functional art through familial utilitarian vessels from his personal memories. While Smith was studying photography at St. Petersburg College, he was encouraged to take a ceramics class and quickly became enthralled with the versatility and complexity of creating with clay. 
Eventgoers were impressed with David's craftsmanship and the intricacy of his work. Check out some of his pieces: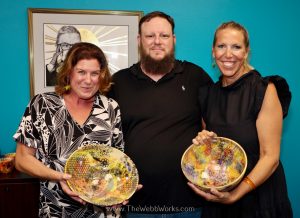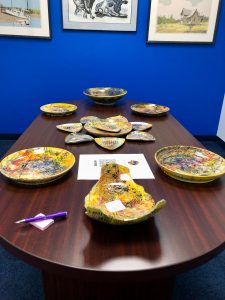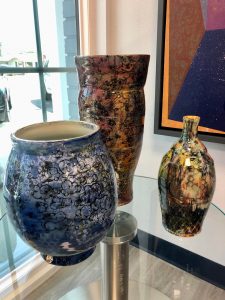 A Special Thanks to …
The Collab at 3833 would also like to extend a warm thank you to Sara-Ellen with the Lay Low Chateau for catering the event and to Jim Webb with The Webb Works for the amazing photos!
Apply to be featured!
If you or someone you know is a local, emerging artist and would like to be featured as our next Creator of the Quarter, we invite you to apply via our website. With an expected show date of October 27, the deadline for completed applications to be emailed to collabat3833@gmail.com is September 30, 2022. Additionally, please make sure to follow The Collab at 3833 on Facebook for news, updates, and more information on upcoming events!